PetSmooch: "Where pets smooch, owners schmooze" - The new Social Networking Portal dedicated to pets and pet owners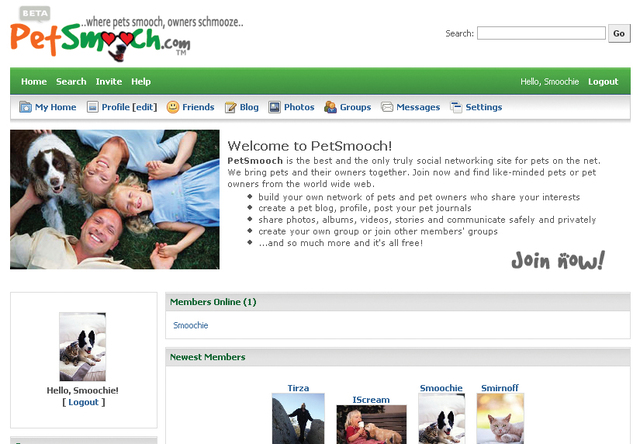 (PRLEAP.COM) PetSmooch.com (
http://www.petsmooch.com
), launched as "the social networking portal dedicated to pets and their owners".
Striving to become a unique and fun online community site, PetSmooch.com, launched it's website on January 21st.
PetSmooch.com was co-founded by Tirza Van Noord, (a Southern California resident who is a new media enthusiast 'with a soft spot for pets') and by Linkfinity LLC, a Marina Del Rey, CA based Information Services firm as a joint venture.
"PetSmooch is a-la Facebook without the fluff, and a-la Myspace without the mess and is dedicated only to pets and pet owners. It's the new and most fun way of finding playmates and connecting with like-minded people. PetSmooch.com is the Stanford of pet sites!" says Co-founder and PR Director Tirza Van Noord.
"Nobody could resist Tirza's enhusiasm. We're targeting pet owners with intelligence, style and sophistication. We tried to make the site provide a clean, easy and intuitive user experience. For example, almost everything on a member profile is treated as a link or tag to open infinite ways to find connections. For now it's beta and invitation only. In a few weeks we plan to add events, classified ads and discussion forums. We will also be forming partnerships with pet related organizations. We're very happy with the result. PetSmooch will soon become the destination of choice for people who are seeking to connect and network with other pets and pet owners online." said Mehmet Efe, president of Linkfinity, LLC.
Joining PetSmooch is initially by invitation only. But you can request an invitaion code by making your plea through the contact form on the site.
The user experience is driven from the pet's point of view. While signing up is very simple and straight forward, members are provided very detailed forms and tools to create their own unique world on PetSmooch. Each profile, blog and album also functions as a standolane personal website with its own personal address.
Some of the features offered to users on petsmooch.com include:
* Building your own network of pets and pet owners who share your interests.
* Creating a pet blog, profile, posting your pet journals is a snap.
* Sharing photos, albums, videos, music, stories.
* Communicating safely and privately.
* Creating your own group or join other members' groups.
* Each profile contains a pet profile and the owner's profile.
* …and so much more and it's all free!
PetSmooch is strictly moderated, all profiles thoroughly checked, highest regard for respect to privacy and a zero tolerance anti-spam policy is enforced. PetSmooch.com does not charge any fee for its many services. PetSmooch is expected to grow to the frontlines of online social networking sites, according to PetSmooch PR Department.
About PetSmooch.com
petsmooch.com is an attempt to create the best online socializing community for pet owners and their pets.
About Linkfinity, LLC
Linkfinity, LLC is a Marina Del Rey, CA based Information Services firm developing niche online communities.