Murray's for Obama available at Murrays4Change.com, $1 from each tin goes to a charity that will be chosen by the community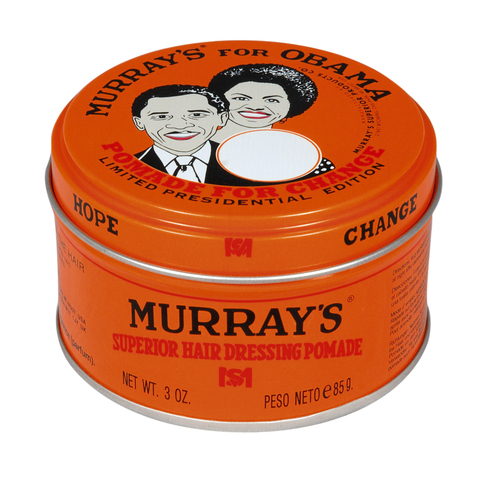 (PRLEAP.COM) Murray's Pomade is offering Murray's For Obama limited edition pomade and T-Shirts for sale exclusively at
www.Murrays4change.com.
The tin celebrates the monumental vote for change that the United States celebrated with the election of our 44th President, Barack Obama with at least $1 from each product sold going to a qualifying non-profit.
The vote continues as Murray's4Change invites Obama supporters, Murray's customers, pomade fans and everyone else to determine which causes are the most worthwhile through an open voting process. Votes are welcome for which non-profit receives the money and for which non-profits are included in the next vote. Non-profits are encouraged to campaign for their causes and rally their supporters as the ones with the most support will be included in the next vote.
Murrays4Change combines Murray's classic product with a unique design in order to raise money for worthwhile causes at a time where giving to worthwhile causes is down across the board. The first donation was of the art itself by Herman de Jongh, Art Director at creative agency Imagine (
www.imagine.nl
) in the Netherlands. Herman noted the similarity between the characters on the classic Murray's tin and the faces of the President and First Lady and he created the artwork for Murray's asking for nothing in return. Murray's believes that one good deed leads to another and as such, chose to feature the art as the first in the series of Murrays4Change products.
Murrays4Change is an open group on Facebook that all are invited to join. Share love for pomade, post photos of Murray's supported hairstyles, show off old school pomade memorabilia and most importantly, cast votes for change and campaign for your cause. Non-Facebook users can do the same at
www.Murrays4Change.com.
Murray's for Obama product is available exclusively at the
www.Murrays4Change.com
website.
About Murrays
For more than 80 years, Murray's has been providing simple products at a fair price that are enjoyed worldwide by people of all races and cultures of hair styles. From the kid rockin' his waves in the street, to the greaser's high and tight pompadour to the high fashion runways, Murray's original and specialty (Nu-Nile, eXelento and HAIR-GLO) pomades and conditioners, beeswax line and CoCoSoft and products have fueled generations of styles. Find Murray's online at
www.murrayspomade.com
and at thousands of retailers across the country.