Marketing Research Trends for 2010 and Beyond - Next Gen Market Research Group Releases First Annual Research on Research Report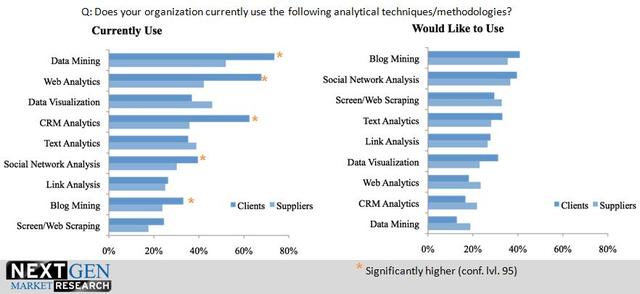 Stamford, CT (January 7, 2010) – Client-side market research organizations are significantly more likely to use "Next Generation" analytic techniques than their supplier-side counterparts, according to a report released today by Next Gen Market Research (NGMR), an independent, non-profit professional networking group for market researchers.
Of NGMR members polled, client-side market researchers were significantly more likely than supplier-side market researchers to cite data mining, Web analytics, CRM analytics, social network analysis and blog mining as tools they currently use.
"These NGMR survey results suggest that many market research suppliers are still stuck in 'Research 1.0' mode while their clients push ahead," said NGMR founder Tom H.C. Anderson, Managing Partner of Anderson Analytics, LLC.
"This is an alarming development," said Anderson. "The research industry should be leading the way in 'next generation' insights, but in many cases clients are instead taking it upon themselves to develop ways to generate new insights from an increasing plethora of data sources."
Conversely, the study also found that research clients are more attached to traditional focus groups than suppliers and conduct them more often. "Clients have not abandoned traditional research methods; they are simply expanding their toolkits in step with emerging consumer technology trends," said Anderson.
The survey covered a variety of important research industry issues. Other notable findings:
- Clients generally do not seem to care about which online panel/s are used in a study (majorities of both suppliers and clients confirmed this assertion).
- Suppliers are generally more skeptical of "Do-It-Yourself" (DIY) online survey research tools than clients, but the difference in attitudes may not be as pronounced as the industry has been led to believe.
- Market researchers employed by large suppliers (1000 employees or more) are less "happy" in their jobs compared to their client and smaller supplier counterparts.
- Supplier selection criteria differ by client size: Larger client companies (10,000 or more employees) are apt to seek suppliers who offer "new and different techniques," while smaller clients are more likely to consider supplier size and tend to value "reputation" and "price" foremost.
- Clients (59%) and suppliers (69%) agree, "Offshoring is not as profitable as others think and is fraught with risk."
- Gaps exist between the research activities clients consider suitable for offshoring compared to suppliers. In particular, suppliers who offshore were considerably more comfortable offshoring concept and ad/copy testing.
- Surprisingly, clients were more likely to approve of offshoring multivariate research work. "This suggests clients and suppliers may have different understandings of 'multivariate' projects and/or offshoring in general," said Anderson.
Additional topics covered in the study include preferred training resources, professional associations and trade publications; comfort with various advanced statistical techniques; and volume of project types conducted according to company size.
For further information or to download a complimentary, detailed PowerPoint presentation of the NGMR study, please visit:
www.nextgenmr.com
or
www.tomhcanderson.com
About the Next Gen Market Research (NGMR) Study
The NGMR study differs from other industry-level surveys of market research practitioners in that it was inspired largely by NGMR members who submitted study topics via an online discussion board in an initial exploratory qualitative phase. A subsequent quantitative survey conducted online in November 2009 consisted of approximately 30 questions. Respondents were recruited by email invitation or through a link posted on NGMR's discussion forum. 855 members completed the survey and identified themselves as either Supplier (54%), Mainly Buyer (19%), Both Buyer & Supplier (22%) or Other/None of the Above (5%). 72% of respondents were US-based; the remaining 28% split evenly between EU and non-EU member countries.
About Next Gen Market Research (NGMR)
Next Gen Market Research (NGMR) is an invitation-only, non-profit professional networking group for market research practitioners who are interested in exploring innovative, emerging market research techniques and technologies. Originally founded as a discussion forum on the LinkedIn network in September 2007 by Tom H.C. Anderson, Managing Partner of Anderson Analytics, LLC, NGMR's membership now exceeds 6,900 market researchers worldwide (clients and suppliers) and has the most active online community in the field. For further information, please visit the NGMR website and blog at
www.nextgenmr.com
and
www.tomhcanderson.com
.
Email Anderson Analytics, LLC