WatchIndiaTV's Launches New Indian TV Set-Top Box For Live Indian Channels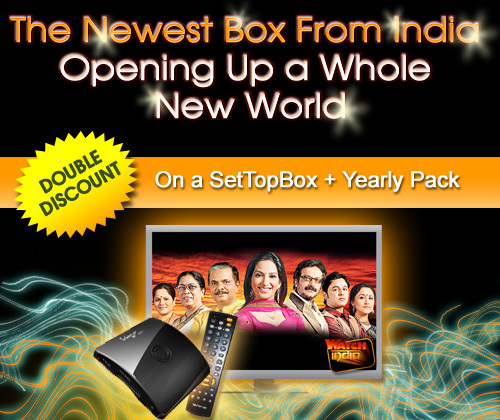 (PRLEAP.COM) In a significant strategic and technological development, WatchIndia.tv has this week announced its launch of the Live
Indian TV
service delivered via a Set-Top-Box. This new product allows subscribers to watch their favorite Indian TV Channels from the comfort of their living room. From this week, viewers will no longer require a PC to watch their favorite Indian channels; as with traditional television, they simply need to pick up the remote & watch!
WatchIndia.tv has developed the box using the latest IPTV technology, The box is a small unit that connects to the broadband router on one end and to the television set on the other. The system allows the customer to watch
Indian TV
directly through their standard television. Customers can then switch channels easily between their traditional television provider and the WatchIndia.TV service without having to get up from the couch. With no need to connect and login via the PC this makes WatchIndia the most convenient (and unique) way for non-resident Indians to choose not only when but where they use the service.
From the beginning of February, WatchIndia.TV begun the soft-launch of the WatchIndiaTV Set-Top Box service through a combination of existing customers and those who've previously expressed an interest in signing up. With significant take-up and positive early response to the service, from today the announcement and service is open to the public.
Pradeep Parminder, Marketing Executive at WatchIndia said "In line with this momentous launch, all new customers signing up for the Live India TV services can purchase a discounted Set-Top-Box at the signup stage. All new signups will enjoy a 33% discount on their chosen
Indian Channel
Package, in addition, customers will also receive a $50 off on the box.
With the new, sleek, WatchIndiaTV Set-Top Box customers can enjoy:
- Direct and instant connection to any TV - no PC required
- Plug and play – no software or setup required
- Watch all our channels, Live & On Demand (VOD)
- Go mobile, take the device with you when travelling.
- Enjoy a 33% savings on your subscription + $50 off on the Set-Top Box!
ABOUT WATCHINDIA.TV
WatchIndia.TV is the first site from Live Asia TV, an innovative new Internet Television company, whose goal is to bring ethnic Asian programming to those residing in the Diaspora. WatchIndia.TV partnered with top rated networks in India including: Zee TV, Zee Sports, Zee Marathi, Zee Telugu, Zee Bangla, Zee Kannada, Zee Punjabi, Zee Cinema, Zoom, Times Now, Aastha, NDTV Profit, The Bollywood production house - Shemaroo Entertainment, NDTV Imagine, 9X and 9X Music, Saam TV, Mahuaa TV, Raj TV Network and ETV Network. WatchIndia.TV offers a unique service with a great value, better quality and more flexibility than traditional satellite providers all over the world