APA Announces 1st Annual Short Video Contest Winners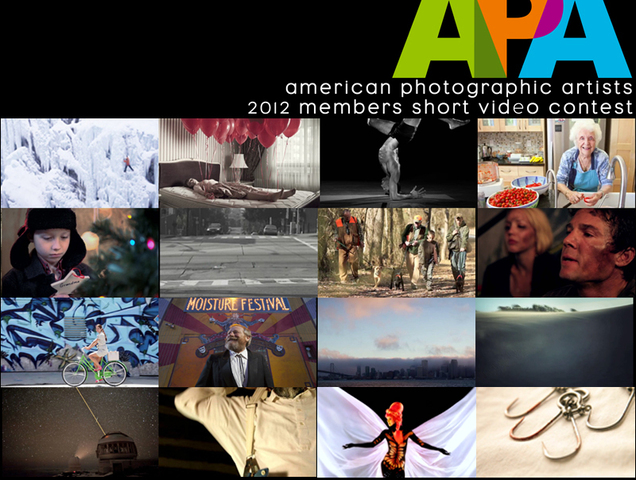 (PRLEAP.COM) ATLANTA, GA. – April 26, 2012 –The results are in! The 1st Annual American Photographic Artists Members Short Video Contest judges made their selections, awarding over $19,000 in cash and photography gear. David Clifford won 'Best Overall' for his video about ice climber Sam Elias, and Sky Bergman won the 'Rockin' It Peoples Choice' award for her video depicting a 99-year-old woman's gym and cooking life.
"It was a difficult choice in many categories with strong competition, but when pushed to the corner the judges came through," said Theresa Raffetto, APA National President.
The APA stated they created the video contest to promote the talent within their organization and to highlight the members that are staying current with the changes in the advertising and commercial photography industries today.
"For years, APA members have been known for telling great stories, one frame at a time…but time and technology have moved on," said Ric Kasnoff, APA National VP and Video Contest Producer. "With the availability of broadband and proliferation of the Internet as the prime vehicle for our clients to reach their clients, advertisers now want motion either by itself or in combination with stills as part of their outreach/campaigns."
Just to keep the creative pressure up, APA asked their contest sponsors, all motion industry related companies, to judge their own categories so they'd have direct exposure to APA's talented commercial, editorial, product and advertising photographers.
"We know that many of our members have adopted Motion, and video and film production, as an integral part of their service offerings and thought that a contest like this would be a good way to show the world that we, members of the APA, are more than just 'still' photographers and that there is a wealth of 'motion' talent and creativity in our ranks," said Kasnoff.
The 'Best Overall' winner was chosen "based on creativity and overall production value", according to the APA website. The "Rockin' It Peoples Choice" award was given to the video with the most "likes" and comments on Vimeo.
The public can view the list of winning videos on the APA National website:
http://www.apanational.com/i4a/pages/index.cfm
And all submitted videos can be found on their group Vimeo page:
http://vimeo.com/groups/130147
INdTelevision produced an informational video piece on the contest, shot during the 2012 NAB conference where the awards were announced:
http://vimeo.com/40642756
The American Photographic Artists (APA) will create a "We Are American Photographic Artists" promotional compilation video based on the winners.
About the American Photographic Artists
APA's mission is Successful Professional Photographers. Our goal is to establish, endorse, and promote professional practices, standards, and ethics in the photographic and advertising community. We seek to mentor, motivate, educate, and inspire in the pursuit of excellence. Our aim is to champion and speak as one common voice for advertising photographers and image makers to the advertising industry in the United States and the World. For more information, please visit
www.apanational.com
.
Press Contact:
Brit Majure
editor@apanational.com