JAXQuickfit Tyres Director Conquers Longest Uphill Ride in the World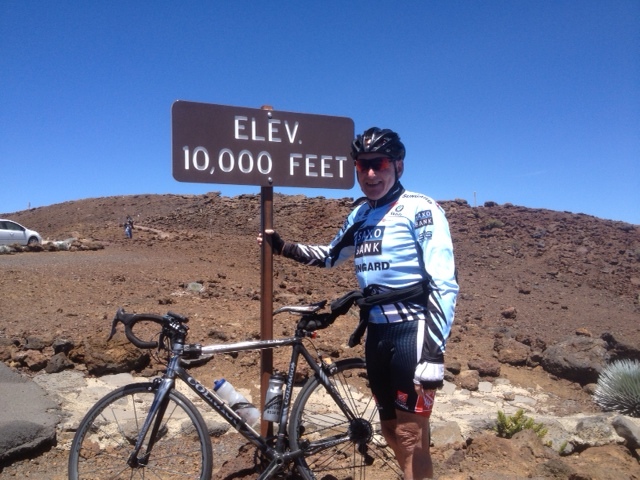 (PRLEAP.COM) Ian (alias Fred) Hurrell, Director and major shareholder of
JAXQuickfit Tyres
has cycled up the longest continuous uphill ride in the world.
The Haleakala Volcano in Maui, Hawaii is one of the most difficult bike climbs in the world with the ride climbing from 0 - 10,000 feet over 61 kilometres and reaching gradients of up to 18 per cent and an average of 6 per cent.
Unlike many cyclists who ride up the volcano during the annual race in the Hawaiian summer, Ian cycled up by himself without assistance or anyone waiting to meet him at the top.
"Telling my mates 'I didn't get there' was not an option. The fear of failure kept me going all the way to the top."
"I must say that the climb was windy and quite dangerous above 7,000 feet. And for the last 3,000 feet it was really windy and difficult to control the bike with lots of corners and switchbacks for the whole ride."
It took Ian 5 hours, 37 minutes to the top and 7 hours, 27 minutes to complete the 130 kilometre round trip.
During the climb Ian burned 5,000 calories, which is almost 2.5 times the average daily calorie intake of a human being.
"I didn't eat anything on the way up. I had a small banana and half a Snickers bar at the top."
"I carried extra clothing (long gloves, skull cap, winter jersey etc) but it was so windy I had trouble changing and, I had to hold on to everything including the bike…otherwise it would have blown away."
This remarkable achievement however, is not the end of Ian's cycling ambitions. He is already training for a one week cycle in the French Pyrenees together with a group of his friends, which will be at the same time of this year's Tour de France.
"It will be great cycling along the same route as the Tour de France. I haven't told many people yet but a couple of other cyclists and I are already training for it."
Ian has been cycling for over 30 years and regularly rides in a national park in northern Sydney.
"I usually cycle 5 days a week, so all I did was to add a couple of hills on top of my usual daily training. When I arrived in Hawaii I found some decent hills in Honolulu for a few workouts before I went over to Maui."
Ian joined JAX
Tyres
in 1973 after working for
Dunlop
for 10 years. He is also known as Fred amongst colleagues and friends.