L&M Precision Fabrication Announces AS9100 Rev C Certification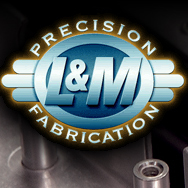 (
PRLEAP.COM
) Airway Heights, WA, May 16, 2012: L&M Precision Fabrication, a full service sheet metal forming and machining manufacturer, is pleased to announce the company has received AS9100 Rev C Certification.
The certification signifies L&M Precision has met Quality Management System qualifications as defined by the International Aerospace Quality Group (IAQG) and designed to meet the unique needs of the Aerospace, Military and Defense markets. Services offered by L&M for the Aerospace industry include CNC Punching and Forming (
http://lmprecfab.com/cnc-punching-and-forming.php
), Machining (
http://lmprecfab.com/cnc-machining.php
), Assembly and more.
"Achieving AS9100 Rev C was a rigorous process that allowed us to focus on continually improving our processes and updating our systems," says Fred Brown, Vice President of L&M. "We're very proud of the hard work and discipline of all of our staff who made it possible for us to reach the level of quality and performance needed to serve the Aerospace industry."
The AS9100 Rev C quality management system certification focuses directly on areas that impact sheet metal fabricated products' reliability and overall product safety. Benefits for L&M Precision customers include product performance assurance as well as cost savings resulting from consistency of manufacturing processes. Rev C also includes emphasis on risk management and supply chain management.
About L&M Precision (
http://lmprecfab.com/
)
L&M Precision provides a full range of precision sheet metal forming and machining services for the Aerospace, Electronic, Medical and Military markets. We offer RoHS compliant manufacturing of CNC punched, formed and machined components all managed by our AS9100 certified Quality Management System to ensure reliable precision products for L&M customers around the globe.