Implico is "Automation Company of the Year"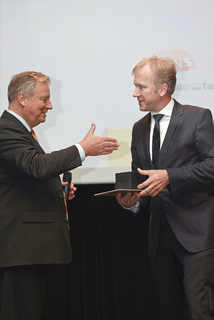 (
PRLEAP.COM
) Since last Friday, international consulting and software company Implico is now the "Automation Company of the Year". Managing Partner Michael Martens attended the TankBank T8 networking event in Rotterdam to accept the most recent accolade won by Implico. Implico was nominated for the award by TanQuid GmbH & Co. KG, a major tank terminal operator in Germany. TanQuid was motivated to do so by a
project
, in which Implico implemented a centralized site management system while also automating many of its processes.
Michael Martens, Managing Partner at Implico, is very pleased to have received the accolade: "A decisive factor for our successful placing here was certainly the many years of experience we have in process automation. This was also the prerequisite for the successful conclusion of the ambitious project at TanQuid. Our thanks go to the Head of IT at TanQuid, Thomas Knutzen, whose nomination actually gave Implico a chance of winning this award."
With the TankBank Award "Automation Company of the Year", Implico adds another accolade to the company's collection of trophies: Implico won Deloitte's
"Technology Fast 50 Award"
in 2009, the
"Telematics Award"
from the German trade journal Telematik-Markt in 2010 and, just last year, the
"Global Customer Value Enhancement Award"
from Frost & Sullivan.
This is the first year the TankBank accolades have been awarded. Winners were selected for a total of seven categories – which, alongside "Automation Company of the Year", also included "Port of the Year" and "Terminal of the Year". The awards are sponsored by the organizers of the regular TankBank event series, an international networking program for the oil and chemicals industry.
About Implico
As an international consulting and software company, Implico supports oil and gas companies worldwide in optimizing their business processes. The company was founded in 1983. Headquartered in Hamburg, Germany, the Implico Group has subsidiaries in the UK, Malaysia, Romania, Switzerland and the US.
Five of the world's ten largest oil companies now rely on Implico's industry experience, consultancy expertise and high-performance solutions – including OpenTAS, SAP OGSD (Oil & Gas Secondary Distribution) and IDM (Integrated Dispatch Management). OpenTAS with the two main modules TMS (Terminal Management System) and RDM (Replenishment and Distribution Management) is targeted at fuel depots and refineries, offering comprehensive functionality for administration, automation and process improvement. SAP OGSD, developed by Implico and marketed worldwide by SAP, optimizes the distribution of petroleum products. The innovative software solution IDM, developed by Implico, helps dispatch planners to create optimum tours: orders from SAP are combined with resources to ensure the best possible results.
The fast-growing Implico Group currently employs around 250 staff.