State & Local VIPs To Attend Ribbon Cutting Ceremony at The Adventure Park at The Discovery Museum Monday, July 16, 2012 – 1:00 PM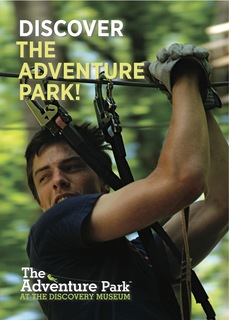 (
PRLEAP.COM
) State & Local VIPs To Attend Ribbon Cutting Ceremony at The Adventure Park at The Discovery Museum on Monday, July 16, 2012 – 1:00 PM.
** Admission By Invitation Only – News Media Welcome **
An official ceremony and ribbon cutting will take place at the recently opened Adventure Park at The Discovery Museum, 4450 Park Avenue, Bridgeport, Connecticut on Monday, July 16, 2012 at 1:00 PM. The ceremony will take place behind the Museum building in the Park's forest in the clearing by the Starting Platform. News media are welcome. There will be ample opportunities for photos at this highly picturesque, new recreational venue.
The Adventure Park will be closed to the public beginning in the morning of the event through its conclusion (approximately 3:00 PM) and will reopen afterwards.
Multiple State and local representatives will participate in the ceremonies to proclaim the many benefits the new Adventure Park will bring to businesses and citizens of the region. The Adventure Park at The Discovery Museum is Connecticut's first aerial forest adventure park and among the first in the nation.
- What The Adventure Park Is -
It's much more than a "zip lines park." The Adventure Park is an "aerial forest ropes park" consisting of more than 110 platforms installed in the trees and connected by various configurations of cable, wood, and rope to form bridges and zip lines. Groups of bridges link together to form separate "aerial trails" though the trees. Although every course has zip lines on them, you will need to climb to get to them. There is much more fun than just zip lining to be had! There are eight trails in total for ages seven-to-adult. Climbers can select from courses ranging in difficulty levels from beginner to expert. Safety comes first and the fun and excitement will come naturally.
The Adventure Park is currently open seven days a week from 9 AM to dusk. Admission to the Park is separate from that to the Museum. The Adventure Park at The Discovery Museum is operated by the Outdoor Venture Group, LLC, in cooperation with The Discovery Museum. For more information please visit
www.DiscoveryAdventurePark.org
.