APA RESOLVE To CONNECT - Free Photo Networking Event In All Chapter Cities, July 18th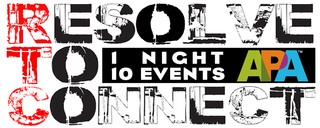 (
PRLEAP.COM
) ATLANTA – July 11, 2012 – Photographers of the USA Unite! Teamwork and collaboration are key in today's world of photography. The successful photographer is no longer the lone ranger but rather the resourceful artist, good at collaborating with other talented artisans in order to produce award-winning, competent, and profitable photographic images.
American Photographic Artists
wants you to meet these experienced photography professionals and is producing a nationwide networking event with special simultaneous parties going on in all ten of the APA chapter cities.
Our first Resolve To Connect event in January 2011 was such an inspiring time, we felt it's time to bring it back. APA wants you to expand your network by meeting new connections to build your own stronger, more successful photo production teams. We are bringing together photographers, assistants, food, props, makeup, wardrobe, stylists, producers, digital techs, retouchers and models.
Meet experienced photography professionals who can help you accelerate your career. Strengthen your portfolio, website, or resume by working with other talented people.
Each chapter is planning their own evenings and making special plans for each city. American Photographic Artists in Atlanta will host an abundance of photo professionals and feature the signature APA cocktail and tasty hors d'oeuvres from Warren City Club, and the D.C. Chapter is taking Happy Hour to the next level with their photo professional meet-up at the Science Club. Each city promises 10 fun and productive networking events for the one night happening.
Make your mid-year resolution NOW, and join APA on this very special night. Whether you are a commercial photographer, advertising photographer, editorial photographer, fine art photographer, or video production professional, Resolve To Connect will be extremely beneficial for you. And don't forget your promo cards and business cards for sharing! Members and non-members are invited, and the event is free. Come one, come all!
BECOME A MEMBER of APA after attending Resolve To Connect and you will receive three free single entries to The APA Awards 2012 Photo Competition and have your name put into a drawing for a chance to win an iPad. Details at the Resolve To Connect event.
Connect to collaborate, and to actively participate in your own photo community - July 18, 2012.
For more info about this fun and important event, please check your closest APA Chapter's website. The event is free, but most cities require an RSVP.
Atlanta –
www.apaatlanta.com
Los Angeles –
www.apa-la.com
Midwest –
www.apamidwest.org
New York –
www.apany.com
San Diego –
www.apasd.org
San Francisco –
www.apasf.com
Charlotte –
www.apacharlotte.com
Colorado –
www.apacolorado.com
Northwest –
www.apanw.org
Washington DC –
www.apadc.com
About the American Photographic Artists
APA's mission is Successful Professional Photographers. We are a non-profit photo association with the main goal to establish, endorse, and promote professional practices, standards, and ethics in the photographic and advertising community. We seek to mentor, motivate, educate, and inspire in the pursuit of excellence. Our aim is to champion and speak as one common voice for advertising photographers and image makers to the advertising industry in the United States and the World.