Corporate Finance Associates Advises in Recapitalization of Designed Conveyor Systems, Inc. and Express Installation, Inc. by Ambassador Enterprises, LLC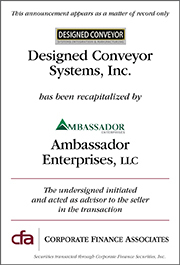 (
PRLEAP.COM
) Los Angeles, CA – Corporate Finance Associates (CFA), an international middle-market investment banking services firm providing merger and acquisition, business valuation, capital resources, and financial advisory services, announced it advised in the management recapitalization of Designed Conveyor Systems, Inc. and Express Installation, Inc. by Ambassador Enterprises, LLC.
Employing over 75 full time employees, Designed Conveyor Systems and Express Installation, Inc. specialize in the design, manufacture and installation of world-class conveyor systems and material handling solutions for the parcel and distribution industries. Founded on a culture of collaboration and team work, Designed Conveyor Systems prides itself on its long-standing customer relationships, many of which have been in place for more than a decade. From project inception to completion, Designed Conveyor Systems has industry-leading engineering, project management, fabrication, installation and ongoing support – all under one roof.
When the management team at Designed Conveyor Systems decided to seek a growth partner, Greg McKinley of CFA Nashville led the search for a company whose culture and dedication mirrored that of Designed Conveyor Systems and found such a partner in Ambassador Enterprises. With Ambassador's resources and managerial and corporate development capabilities, Designed Conveyor Systems and Express Installation, Inc. are better positioned for future growth.
"I have thoroughly enjoyed working with Ken Wood and the Designed Conveyor Systems management team. They have built an exceptional business in which both customers and employees are at the top of their priority list," said Greg McKinley, Managing Director of Corporate Finance Associates in Nashville and lead advisor in the transaction.
Transaction Information
On September 2, 2012, Ambassador Enterprises, LLC recapitalized Designed Conveyor Systems, Inc. and Express Installation, Inc. in a private transaction. The terms were not disclosed. Greg McKinley of CFA Nashville advised in the transaction.
About Corporate Finance Associates
Corporate Finance Associates is a major investment banking services firm, providing middle-market companies with a wide range of financial advisory services in support of mergers, acquisitions, divestitures, capital sourcing, and corporate restructuring. From project inception to completion, a senior principal guides clients through every challenge, advocates on their behalf, and leverages CFA's experience and extensive resources. CFA has over 20 offices in United States, three in Canada, three in India and 16 partner offices in Brazil, China and throughout Europe. More information is available via the internet at
www.cfaw.com
.
About Ambassador Enterprises, LLC
Based in Fort Wayne, Indiana, Ambassador Enterprises is a for-profit, philanthropic, equity firm investing in leaders and their organizations, seeking partners who advance human welfare and provide financial returns. They invest in individuals, organizations and companies that share their commitment to producing economic, cultural and eternal returns.
www.ambassador-enterprises.com
.