Lear Capital Releases an exclusive IRA-Ready, 1.5 ounce Silver Polar Bear Coin from the Royal Canadian Mint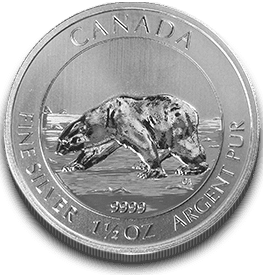 (PRLEAP.COM) Lear Capital (
www.learcapital.com
) introduces the silver Polar Bear Coin, a 1.5 ounce coin honoring the majestic, arctic polar bear. Produced by the Royal Canadian Mint, a world-class provider of branded investment products as well as circulation and non-circulation coins, the silver Polar Bear coin is 99.99% silver. Its pure content makes it suitable for IRA investment. The addition of silver to your IRA account not only provides portfolio diversification but a critical hedge against depreciating paper currencies, stocks and bonds.
"Silver has enjoyed an average growth of 20% per year over the past decade while outperforming the Dow Jones by 86%. It's a good time to consider it, and this exclusive beautiful silver coin from The Royal Canadian Mint makes it easy to get started," says Scott Carter, CEO of Lear Capital
The Silver Polar Bear coin is an exceptionally thick, brilliant silver coin that captures the majestic polar bear mid-stride, with head down and clear musculature, traversing an ice-white glacier field. The coin is available exclusively in the United States from Lear Capital in either 22.5 oz or 450 oz investment rolls.
Silver holds a unique position as both a precious and an industrial metal, making it an alluring investment choice. Global demand for silver is up and still rising and its appeal as an investment vehicle is further enhanced by its liquidity. Since it is priced so much lower than gold, silver is surprisingly easy to convert to cash. The silver Polar Bear coin is an attractive acquisition for both first-time precious metals buyers as well as long-term investors.
Lear Capital is considered the gold-standard for investors looking to add precious metals to their investment portfolio. Lear offers bullion (in the form of coins, bars and ingots), gold or silver-backed IRA's for investment, diversification and retirement protection. Lear's commission free "Buy Back" program and "Lear Lock" Price Assurance plan add a special level of security to all of their gold and silver transactions.
The Silver Polar Bear is only available in the United States through Lear Capital and Lear will donate a portion of all proceeds from the coin to Polar Bear non-profit groups dedicated to Polar Bear Conservation. To order Lear's exclusive Silver Polar Bear coin call 1-800-576-9355 while supplies last or immediately go to:
www.learcapital.com
Email Lear Capital Marketing