Chelsea State Bank's Overdraft Protection Benefits Consumers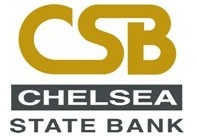 (
PRLEAP.COM
) For most people writing a check is a simple process, something they have been doing for a long time. But writing a check and knowing there are sufficient funds in the account can be another story. Chelsea State Bank recognizes that daily life is full of challenges and distractions as its customers try to balance work and family, pay the bills, balance the checkbook and stretch those dollars from pay check to pay check. Mistakes can happen.
"It's nice to know that when it comes to your bank account you have a partner that has your back," explained John Mann, President and CEO of Chelsea State Bank. "If you make a mistake, or write checks thinking the funds are there, only to find out that is not the case,
overdraft protection
is your lifeline, your checking account insurance policy if you will."
Chelsea State Bank offers its customers
worry-free overdraft protection for checking accounts
and according to Mann, Chelsea State Bank has been offering this service for a long time. Chelsea State Bank's overdraft protection is a huge benefit for customers. Overdraft protection is simple to set up. When a customer writes a check for more than the balance in his or her account, Chelsea State Bank automatically covers that check, transferring funds in multiples of $100 with an overdraft protection loan up to the customer's pre-approved credit limit.
People who have the overdraft protection pay the 18% APR on the outstanding balance, which is $0.05 per day for every $100 outstanding, compared to a per item overdraft fee and additional charges that may be assessed by retailers if your check bounces.
"It's almost like a personal credit line. There are no annual fees or transaction fees at Chelsea State Bank for those who qualify for this service benefit," Mann emphasized. "We want to help our customers to make the best use of their deposits, and paying penalty fees is not one of them. We have a better way at Chelsea State Bank. That's what local community banking service is all about!"
Mann added that once an overdraft protection loan account is activated, the customer also receives a monthly statement along with his or her regular
checking account
statement, detailing all credit line transactions. The minimum required payment would be automatically deducted from the customer's checking account each month. For more information on overdraft protection, call 734-475-1355 and talk to a Chelsea State Bank personal loan officer.
About Chelsea State Bank
Chelsea State Bank is a full service financial institution with offices in Chelsea and Dexter. The Bank was formed over 100 years ago by local business leaders to provide timely financial solutions to individuals, families and businesses in the community. This tradition of community service continues today. For more information, please visit
www.csbonline.com
or call the bank at 734.475.1355.