Lear Capital's Presidential Poll Offers a Chance to Win Gold and a Fiscal Cliff Booklet Just for Voting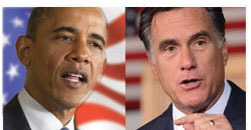 (
PRLEAP.COM
) As the pundits are still re-hashing the themes, replaying the lines, and spinning the story of the first Presidential Debate of 2012, Lear Capital's Presidential Gold Poll is soaring (
www.learpresidentialpoll.com
)! And, why wouldn't it be. $2,012 worth of gold is no small change!
"The Rocky Mountain Rumble" in Denver paired President Barack Obama against the former Governor of Massachusetts, Mitt Romney. The two men clashed on taxes, health care, the deficit, and the size of government. For 90 minutes, Romney was clearly on the attack as he hit the President on a lack-luster economy, growing poverty, joblessness and record-high levels of government assistance recipients. There was also extensive mention of the middle-class as Romney claimed, "Under the president's policies, middle-income Americans have been buried."
President Obama struck back by reiterating that he inherited an economy that was hemorrhaging jobs and on the brink of economic collapse. He accused Romney of espousing economic policies that favor the rich and the fortunate and of wanting to "double down on the top-down policies" that led to the financial crisis in the first place. The President also took Governor Romney to task on his proposed Health Care "voucher system" and for threatening to repeal so-called Obamacare which includes health insurance coverage for all.
It is looking to be a race for the ages, and thousands of visitors have already come to Lear's electronic polling center to register their "guess" on the final vote count of the 2012 contest and a chance to win Election Gold. The Lear Presidential Poll (
www.learpresidentialpoll.com
) will reward the closest statistical guess of the final vote count with $2,012 worth of gold. There is a Second Prize also available awarding a Gold American Eagle Bullion coin.
Lear Capital's Presidential Gold Poll costs nothing to enter and voters will receive a free download of Lear's ground-breaking publication "The Great Fiscal Cliff and $10,000 Gold" which outlines the near perfect storm of economic events set to take place at year end. The booklet covers political stalemates, expiring tax cuts, monetary policy, the coming economic contraction, and a game plan to help survive it all.
The two Presidential candidates will debate again on Oct. 16th and for the last time on Oct. 22th. The Presidential Gold Poll will close at MIDNIGHT on October 31, 2012 and results will be announced on Lear Capital's web site on or before November 30, 2012.