Trade Show Emporium Introduces New LCD Stand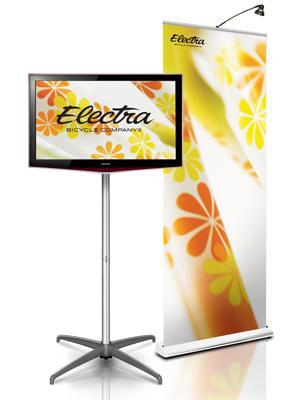 (PRLEAP.COM) Interactive trade show booths are almost a 'must' now in the industry. More people want flashier technology and new ways for visitors and customers to interact with their product or company within their booth. From LCD stands to iPad kiosks, trade show booths are getting a little bit more "techie." However, these items are often more expensive and a pain to carry around and set up. Especially LCD stands.
Trade Show Emporium
is now providing a portable, light weight solution to the LCD stand problem.
The new Expand Monitorstand XL can hold a LCD/LED monitor up to 92.6 pounds, or a 60 inch screen. No tools are needed to assemble this stand so no need to pack your tool box or monkey wrench. It also includes an aluminum folding base and an aluminum pole which is adjustable. And the best part about this stand is that it fits neatly into one, soft case carrying bag and only weighs 38 pounds. This stand is much easier to transport than almost any other monitor stand out on the market. To ship, the carry case can fit neatly in one box and provides enough protection so the stand will not be damaged during the shipping journey.
So, to up the anty on a digital display the Expand Monitorstand XL is a nice and easy way to do just that. With the soft carrying case it makes set up and travel a breeze compared to other carrying cases and monitors.
Email Trade Show Emporium