Lifting Equipment Ltd to Provide all Weather Gantry Crane Solutions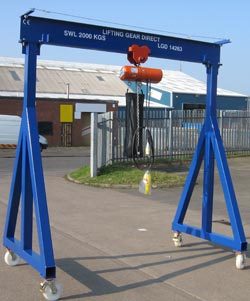 (PRLEAP.COM) Declines in weather conditions makes using certain
lifting equipment
items outside more difficult as the ground becomes less stable and more uneven to position cranes in a safe manner. Providing specific mobile gantry cranes brings solutions to businesses working with heavy loads outside.
Lifting Operations and Lifting Equipment Regulations (LOLER) who set rules for health and safety, state that all heavy lifting must be carried out using the correct lifting equipment to protect all workers involved.
Many lifting equipment items require flat sturdy foundations to ensure the correct balance and grip is maintained to prevent potential accidents. The
mobile gantry
crane now supplied by Lifting Equipment Ltd addresses many of the obstacles faced by those working outside in either construction or agriculture where they can be often faced with rough terrain and uneven surfaces.
The flexibility provided by the adjustable mechanisms of the mobile gantry crane as opposed to other fixed types of lifting gantry make it an unbeatable solution for those who have been facing these difficulties.
Director Dale Shaw explains, "With health and safety being of the upmost importance when lifting in all industries today, having a solution for those working outside who are so frequently affected by bad weather is a real necessity. The mobile gantry crane has made a real difference to many of our customers."
Lifting Equipment Ltd is based in the West Midlands and supplies lifting gear right across the UK. They provide and fit a wide range of products for businesses along with offering continued advice on maintenance and checks to keep items safe.
Email Lifting Equipment Ltd