B2B Marketing Report Outlines Ways to Generate High-Quality Leads and Increase ROI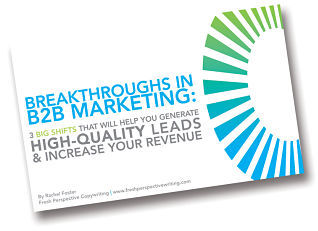 (PRLEAP.COM) Fresh Perspective Copywriting announced the release of their latest report,
Breakthroughs in B2B Marketing: 3 Big Shifts That Will Help You Generate High-Quality Leads and Increase Your Revenue
. The report outlines strategies that B2B marketers can use to dramatically enhance their conversion rates and build relationships with customers. Download a free copy now at
http://copywritertoronto.com/resources/breakthroughs-in-b2b-marketing-report/
.
"Although B2B marketing budgets have reportedly increased this year, the number of 'must have' channels is also constantly increasing. With all of these options, it can be hard to determine where to focus your efforts and the best way to build relationships with customers", says Rachel Foster, owner of Fresh Perspective Copywriting.
Breakthroughs in B2B Marketing explores some of the key trends that are shaping B2B customer behaviour. In this report, marketing professionals will discover:
How B2B buyers are changing. If marketers are not aware of these changes, they will have a hard time selling to today's savvy, social buyers.
The #1 change B2B marketers must make to improve the quality of their leads.
Keys to creating compelling content.
How to make their marketing more social.
Click here to download a free copy of the Breakthroughs in B2B Marketing report
.
About Rachel Foster and Fresh Perspective Copywriting
Rachel Foster is an award-winning B2B copywriter who helps technology marketers create content that drives action. She works with clients to improve their online response rates, clearly communicate complex messages and increase the opt-ins for their white papers and product demos. You can connect with Rachel on LinkedIn (
www.linkedin.com/in/copywritertoronto
), follow her on Twitter (
www.twitter.com/CopywriterTO
), or check out her B2B marketing blog and resources at
www.copywritertoronto.com
.
Media Contact
Email Fresh Perspective Copywriting