Toyoaki Nakayama joins BDA as a Director in Tokyo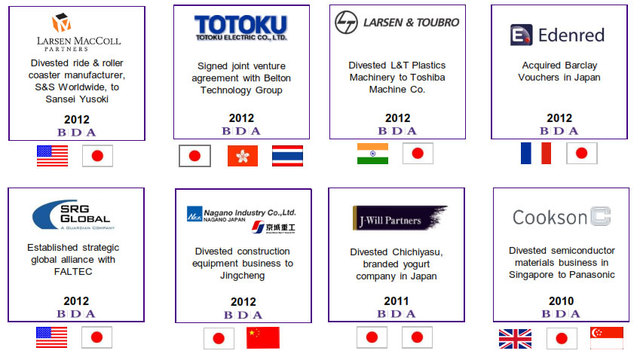 (PRLEAP.COM) Experienced M&A banker Toyoaki Nakayama has joined BDA as a Director, based in Tokyo, Japan. Mr. Nakayama is a leading M&A practitioner with 18 years' experience advising on domestic and cross-border M&A. He brings a deep knowledge of key sectors in Japan including building materials, construction machinery, aerospace, chemicals and capital goods.
"Toyoaki has a proven track record of originating and completing cross-border M&A transactions. We are extremely pleased that he has joined our team," said Jeff Acton, Managing Director of BDA's Tokyo office and a member of the firm's executive committee. Charles Maynard, Senior Managing Director and Founding Partner, added "BDA has completed a growing number of cross-border transactions involving Japan over the past five years, and we are excited to expand our capabilities to advise our client base in Japan."
Mr. Nakayama commented, "I was attracted by BDA's impressive track record, global network, and focus on cross-border M&A. I believe BDA is ideally-suited for advising Japanese corporates and financial sponsors on international deals."
Before joining BDA, Mr. Nakayama was a Director of M&A Advisory at Ernst & Young Transaction Advisory in Japan. He previously worked for investment banks including Jardine Fleming, Deutsche Bank and Lehman Brothers, where he was involved with M&A and corporate coverage. Mr. Nakayama received his B.A. in Law from Keio University in Japan, and he is fluent in English and Japanese.
About BDA
Business Development Asia ("BDA") is an investment banking firm that advises on international mergers and acquisitions. We specialize in cross-border transactions involving Asia, with enterprise values up to US$1bn. We have a strong track record advising North American, European, and Asian firms on cross-border transactions. BDA was named Investment Banking Firm of the Year by The M&A Advisor in December 2010. BDA is headquartered in New York with offices in London, Beijing, Shanghai, Hong Kong, Mumbai, Bahrain, Seoul and Tokyo.
www.bdallc.com
Email Business Development Asia LLC