WyCom WySign Check Signer Puts Check Signing Security in the Palm of Your Hand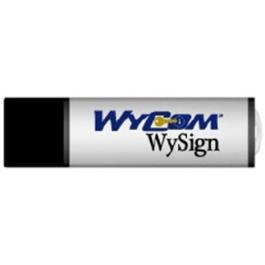 (PRLEAP.COM) Progressive Business Systems, Inc., a Georgia-based company that offers products and services designed to increase office productivity, now offers the
Wycom WySign
. Heralded as a paradigm shift in check signing, the WyCom WySign is a secure check signer that eliminates the need for traditional and bulky mechanical check signers. It also puts security in the palm of the authorized signer's hand by easily allowing them to securely sign checks while maintaining a complete audit log.
Highlights of the WyCom WySign check signer include:
Secure USB key that can be used on any computer without being limited to software that can only be installed on a single PC
Advanced Security Line (ASL) to track each individual signature check by check within the audit log
Graphical overlay creator makes signature placement a snap
Complete audit log to detail user access, signatures and use of WySign
Custom signature backgrounds make signature duplication and alteration more difficult
Secure user control allows authorized users to access certain WySign functions
Unlimited check overlays and signatures
"For CEOs and CFO Accounting Managers that desire security and efficient check signing, this is the product for them. Many companies have already automated the signing of checks as they are printed however many still hand sign checks for security reasons. The WyCom WySign eliminates the tedious task of manually signing checks and increases security by recording user access and signature printing in a concise audit log. Once the checks have been printed by the accounting software simply insert them into any Windows printer, access the WySign solution via your secure log-in and securely sign your checks! For clients who prefer the checks to be signed as they are printed in a one step process or would like to print and sign checks onto blank check stock they should consider our
Wycom Premier Check Signer
or
Wycom Premier Laser Check Printing System
," said Cliff Hagan, owner of Progressive Business Systems.
To learn more about WyCom WySign check signers or to see how Progressive Business Systems can help securely streamline the check disbursement process, call the company at (888) 690-2367 or visit
www.pbsoffice.com
for more information.
About Progressive Business Systems
Progressive Business Systems, Inc. a Georgia-based company, offers products and services designed to increase office productivity. PBS has served both the financial and general business sectors since 1989. Our goal is to match our client's sales and service requirements with quality products and solutions.
Email Progressive Business Systems, Inc.