Forbidden Apple's special Vintage Lingerie will give your Christmas a sparkle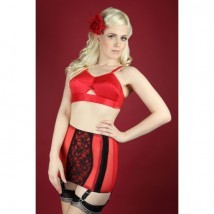 With so many husbands and boyfriends looking right now for that perfect gift to make their special lady feel fantastic, Forbidden Apples range of sexy
vintage lingerie
could be the answer. With so many of us embracing the revival of vintage fashions, these sexy yet flattering garments are sure to be loved and cherished by those who receive them this festive season.
The remarkable look of the 1940's Pin up girls is one that has empowered women for years and the combination of the sexy bullet bras, garters and stockings doesn't fail to make today's women feel every bit as fantastic as they feel whilst wearing them.
Forbidden Apple launched their range of vintage fashion last year starting with the popular
retro apron
range which was designed carefully to flatter the curves of women of all shapes and sizes. This range has been extended throughout 2012, incorporating a varied and very stylish range of high quality lingerie products. The look complements the rockabilly fashion look that has been so huge recently and the individual items come in gorgeous fabrics promoting elegance, style and femininity.
Joint owners of Forbidden Apple Helen and Marie comment, "We want to encourage men to treat their women to this gorgeous and sexy vintage lingerie. The extra sparkle this little bit of glamour will bring is sure to brighten up your Christmas".
Forbidden Apple's full range of vintage products are available to purchase online from their website
http://www.forbiddenapple.co.uk