New Ebook On Pitching Screenplays Gives Writers The Tools They Need To Run The Hollywood Gauntlet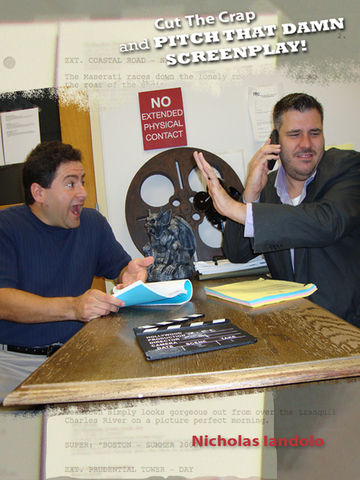 (PRLEAP.COM) January 30, 2013 - Boston, MA - It's early in the morning on a gorgeous Los Angeles day, your eyes are bloodshot and bleary and your head is spinning because you were up late the night before trying to figure out how to pitch your beloved screenplay to a Hollywood executive. After a year or more of writing and rewriting you script, the countless writers' group meetings and harsh criticisms of your literary baby, and spending months vying against a sea of screenwriters to get an 'unrepped' audience with the exec, the moment finally arrives.
The Pitch!
You nervously sit down before this steely-eyed gatekeeper; they ask what are you going to pitch them today. That's when you freeze like a deer caught in the headlights! You try to chill and get rolling. You stumble through the title of your script (which isn't that catchy to begin with and you know it), you muddle through a description of the story that covers way too many characters and plot points, and you are interrupted more than a few times as the exec takes a call or asks you a bevy of questions about your story and its production values that you have no clue how to answer.
After you've jumbled your way through several excruciating minutes of morass, you hear the seminal question, "What else have you got?"
Your answer:
nothing
.
And that's when they say, "Thank you, we'll be in touch," as their assistant shows you the door.
Out on the street, you take a deep breath, burst into tears, and realize you that you just blew it!
What went wrong?
Well for starters you were completely unprepared for this once in a blue moon meeting that could have changed your life forever… and you didn't read Nicholas Iandolo's
'Cut The Crap and PITCH THAT DAMN SCREENPLAY!'
Filled with years of pitching experience and nerve-wracking real life stories from the pitching trenches, the author of the hubristic and motivational
'Cut The Crap and WRITE THAT DAMN SCREENPLAY!'
(endorsed by writers and filmmakers such as David Trottier,
'The Screenwriter's Bible'
) and the exciting new Sci-Fi eBook series
'NLV' (a.k.a. 'New Las Vegas')
, Iandolo prepares the writer for the battles they will have to face as a screenwriter trying to get their work read.
He gives aspiring screenwriters the tools necessary to conquer their fears and run the gauntlet of the Hollywood executive and the New York City literary agent. "I wish I had this book with me when I was preparing for the 2009 6th Annual Great American PitchFest," Iandolo remarked. "I have spent countless hours cobbling together the bits and pieces of disparate and sometimes contradictory info on screenplay pitching, made sense of them, and have put them into this new eBook. Plus, I share with my readers many hard lessons that I've learned along the way and how to avoid the sometimes heartbreaking scams that are out there to ensnare the unsuspecting writer."
There is simply no other book like this on the market today that is solely dedicated to this topic.
"It's like a roadmap to the PitchFest!"
declared Signe Olynyk, CEO & Founder of
The Great American PitchFest
, the largest most successful screenplay pitching and screenwriting conference in the industry (voted the Best of the Fests by 'Script' in their 2011 January/February issue).
And indeed it is. 'Cut The Crap and PITCH THAT DAMN SCREENPLAY!' is filled with humor, war stories from the pitching battlefronts, tons of invaluable information (from loglines, taglines, onesheets, networking tactics, frequently asked questions by film industry execs, to resources and links), and what scams writers need to be wary of.
If you're going to spend countless hours passionately writing your beloved screenplays (or books) that you want the "card-holders" to read, then you want to be as prepared as possible for the greatest challenge a writer must face: THE PITCH!
Whether you're going for the long haul all-day epic pitching extravaganza like The Great American PitchFest, or for the coveted one-on-one meeting with that exec you worked so hard to connect with, or for the ten-second chance opportunity with an exec that you
dare not
let slip away without a try, this is the book that will help you pitch in all of those situations and so much more!
'Cut The Crap and PITCH THAT DAMN SCREENPLAY!' is available in eBook format for all e-readers for a modest $6.99. Look for it on
Amazon.com
,
Apple's iBookstore
,
Barnes and Noble's NOOK Bookstore
, and for
other platforms
. Visit:
www.TenthSphere.com
to learn more about this exciting new eBook and its author.