Vip Dubs Now Offers Digital Mastering And Authoring Services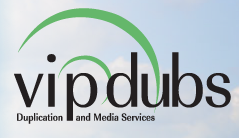 (
PRLEAP.COM
) VIP Dubs, one of the leading digital post production and
media duplication
companies, now offers comprehensive digital mastering and authoring services for its clients. When it comes to mastering and authoring, clients expect consistent and professional results and VIP Dubs is able to deliver. As an expert in media services, VIP Dubs is able to deliver professional-quality results at a fraction of the cost.
Dedicated project managers oversee a client's mastering and authoring project from start to finish. The complete range of services offered by VIP Dubs includes organization and production advice to integrating video, audio, animation and more into a cohesive presentation and encoding the master. VIP Dubs also provides logistics support with production of up to 100,000 replications, labeling and packaging and worldwide shipping.
As part of the mastering and authoring services, VIP Dubs provides professional menu design, encoding, closed-captioning or sub-titles and archiving. With years of experience in the media industry, VIP Dubs' team members are knowledgeable in the design and creation of interactive or static, intuitive menus that make any presentation simple to navigate. With the addition of
closed-captioning
or sub-titles, clients will meet current ADA requirements that may affect their industry. In addition, VIP Dubs will store the masters at no charge for quick and simple future reproductions.
The cost of mastering and authoring services from VIP Dubs depends on the length and complexity of the project. VIP Dubs always aims to meet clients' budgets and timeframes. Clients can expect top quality service and a dedication to the project when working with VIP Dubs. Whether it is a major video production, or a one-off media project, "the VIP treatment" provided by VIP Dubs takes projects to the next level.
To request a quote for
mastering
and authoring services, visit
www.vipdubs.com
or call
(800) 952-1416.
About VIP Dubs:
VIP Dubs Duplication and Media Services is a thriving company with a commitment to give clients more than they expect. The nation's leading supplier of safety and compliance training videos, J.J. Keller & Associates, Inc., has chosen VIP Dubs as one of its top vendors five times in the past 12 years. VIP Dubs is a long-standing member of Media Communications Association International, serving as a Gold Sponsor of the Madison chapter, and a member of Madison Advertising Federation.