What is an Oscar Worth? Lear Capital Examines the Value of the Golden Oscar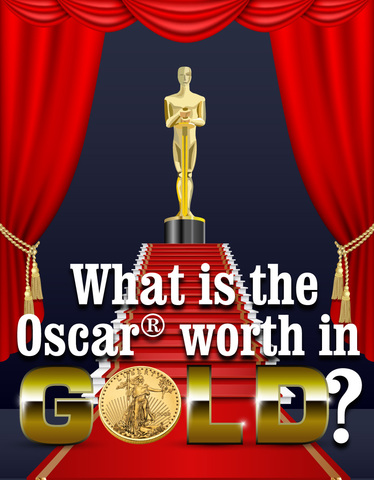 (PRLEAP.COM) What is an Oscar worth? What the world knows as "The Academy Award" is actually an art-deco style golden knight resting on a sword and perched on a film reel platform. It stands just 13 ½ inches tall and weighs a mere 8 ½ pounds but when awarded to a winning nominee at the yearly Academy Awards ceremony, it offers recognition of the triumph of the creative spirit and the transcendence of artistic performance like no other afforded to human kind.
One would think that such an achievement would be presented a trophy of solid gold. But alas, the Oscar is made out of gold-plated britannium or an alloy of tin, copper, zinc, lead and other white metals that are merely plated in gold. But what if the Oscar was solid gold? What would it be worth? Lear Capital (
http://www.learcapital.com
) explores that very concept in a new Infograph called "What is the Oscar Worth in Gold?" (
http://www.learcapital.com/articles/10.html
) by examining the Oscar's value from 1934 to now.
To an actor or actress, it is one of the highest honors bestowed in the history of their craft, to the director it is recognition of their interpretation of story, to the writer it is acknowledgement of the power of their narrative, and to the general public it is the "big screen" designation of "academy award winner" and the enduring aura of celebrity. This excellence of cinematic achievement invites one into the annals of Hollywood history and the ranks of film-making royalty. The actual value of the Oscar; however, is a highly guarded secret but the value of a solid gold Oscar is not.
Lear Capital (
http://www.learcapital.com
) tells us that a solid gold Oscar would have been worth around $4,760 back in 1934 when Clark Gable beat out Frank Morgan, William Powell and Paul Muni to win the Oscar for Best Actor in It Happened One Night at the Biltmore Hotel in Los Angeles. A golden Oscar would have more than tripled in value by 1973 when The Godfather won Best Picture beating Cabaret, Deliverance, The Emigrants and Sounder … And a solid gold Oscar would have increased an astonishing 4600% when Meryl Streep won her third statue for The Iron Lady at last year's 84the Academy Awards edging out Glenn Close, Viola Davis, Rooney Mara and Michelle Williams.
In "What is the Oscar Worth in Gold" (
http://www.learcapital.com/articles/10.html
) Lear Capital not only surveys the soaring value of the Oscar but explores the "Career Value of an Academy Award" as well as Hollywood's added collective wealth if all 2809 Oscars that have been awarded since 1929 were made out of gold. In examining the Oscar within this context, Lear honors the tradition of excellence of the Academy Awards as exemplified by the most enduring value standard in recorded history … solid gold.
Lear Capital (
http://www.learcapital.com
) has been America's Precious Metals leader since 1997 helping customers diversify their portfolios with gold and silver bullion, premium rare coins, and by adding physical gold and silver to existing IRA accounts. They provide a "real-time" investment relationship that keeps customers abreast of spot prices, precious metals news, and economic events that impact savings and retirement accounts.
Lear Capital can be reached via their website at
http://www.learcapital.com
Email Lear Capital Marketing