Geo Events Teams Up With Sorority And Raises $7,000 For Cardiac Care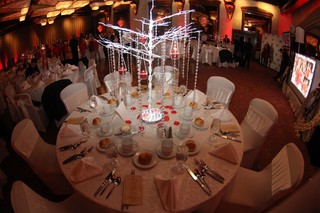 (
PRLEAP.COM
) March 8, 2013 -
Geo Events
recently teamed up with Hofstra University's chapter of Alpha Phi for a charity event. The sorority wanted to raise money for heart issues, and together Geo Events and Alpha Phi planned a great fundraising event for Cardiac Care.
The fundraiser took place at Crest Hollow Country Saturday, February 23. Geo Events produced the event along with the input of Alpha Phi's Vice President of Marketing, Raquel G. The fundraiser at Crest Hollow Country Club consisted of raffles and silent auctions.
Donations were made for these raffles and silent auctions by many of Long Island's local businesses and major sports teams. Sponsors for the event include the Yankees, Jets, and the Knicks. Both the strategic planning by Alpha Phi and Geo Events, as well as the big-name sponsors, led to major success for the fundraiser — $7,000 was raised for Cardiac Care.
Geo Events is a complete service event planning company. With two decades worth of experience, their tenure in the entertainment and event production industry is unmatched. Not to mention, Geo Events' experience in managing and creating unique and distinctive events has afforded the company the knowledge and savvy to create events that stand apart from the rest.
To learn more about Geo Events, or to contact the company regarding scheduling an event, visit
www.geoevents.com
.
About Geo Events
Geo Events hosts a variety of events throughout NY and NJ. The company excels in accommodating the range of different services that people need when planning events. This includes entertainment, visuals and lighting, lounge and décor, photo and video, novelties and games, as well as specialty acts.
750 3rd Avenue
New York, NY 10017
Phone: (212) 572-8323
Giovanni Casas
Geo Events