The Premier Pain Clinic In The Southwest Brings New Talent to Tucson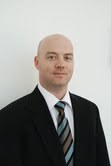 March 11, 2013: The Pain Center of Arizona, the premier pain management clinic in the Southwest, is proud to announce the addition of Dr. Kenneth Rabe to their expert staff. Dr. Rabe shares the same dedication to compassionate patient care and multi-modality approach that has set The Pain Center apart from other pain practices.
Kenneth Rabe D.O. is fellowship trained in both Pain Medicine and Physical Medicine and Rehabilitation (PMR), giving him a scope of training that will infinitely assist his patients. He will not only be able to help his patients lower their pain levels, but will diligently work with them get back to a high level of functioning and quality of life. Dr. Rabe empathizes with the burden that chronic pain not only places on the sufferer, but on their family and loved ones as well.
The Pain Center of Arizona's Tucson Clinic has been serving the area for nearly a year now under the direction of its founder, Dr. Steven Siwek, and will continue to see the same compassion and improvement in care with the addition of Dr. Rabe.
The Pain Center of Arizona in Tucson is located at 1704 W. Anklam Rd. #108, Tucson, AZ 85745
To schedule an appointment, please call 1-888-PAIN-CENTER.
Founded by Dr. Steven Siwek, The Pain Center of Arizona is a collective group of the finest pain management physicians in the Southwest, and has been giving hope to chronic pain patients for over ten years. Comprised of pain management specialists that have been trained at the top institutions in the country, The Pain Center of Arizona is a multidisciplinary pain clinic that offers extraordinary pain care utilizing a variety of diagnostic and therapeutic methods. To meet patient demand and offer accessibility to as many as possible, The Pain Center is conveniently located in many neighborhoods across the state, including the Valley, Tucson, and Prescott. The Pain Center of Arizona adheres to an exemplary care model that has proven success in treating a variety of pain conditions. Above all, The Pain Center of Arizona is dedicated to helping patients get back into life. To learn more, find a location near you, or to schedule an appointment, visit
www.ThePainCenter.com
or call 1-888-PAIN-CENTER
Email Medical Marketing Solutions