One Love Nutrifest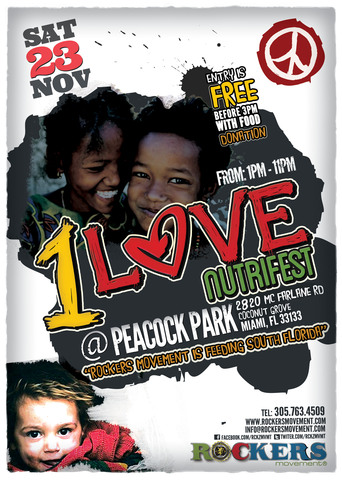 (PRLEAP.COM)
The Event:
One Love Nutrifest held at Peacock Park in Coconut Grove, FL is a positive celebration highlighting the power of word, sound and art, uniting us all as members of one human family. Composed of many elements that share in a single idea: a state of being unified as one.
The daylong family-oriented festival will be composed of many elements but all share in a single idea: a state of being unified as one. As Bob Marley so humbly said, "one love, one aim, one destiny."
Enabling Change + Creating Solutions = Rockers Movement.
"The festival aims to inspire people to give of themselves to help make the world a better place in which to live. "We're accomplishing this task by spreading art, culture and music while offering relief and humanitarian aid." Rockers Movement is Feeding South Florida! Feeding South Florida, the largest food bank in the state, is a member of Feeding America, the nation's leading domestic hunger-relief charity. Keeping in the spirit of unity, attendees are asked to contribute two or more non-perishable food items as part of the cost of admission.
"Given the philanthropic nature of this event, we're inviting all civic minded companies to join us as partners in this event," Alfonso D'Niscio Brooks said. "It's a great way to get your name in front of thousands of people while ensuring that thousands of dollars are donated to a very worthy cause."
Activities:
Families will be able to enjoy live performances of artists from diverse parts of the world reflective of our landscape, an artisan village of fine arts and visual arts, a food village, yoga demonstrations, bike valet, social consciousness workshops, Artecology Experience that includes recycling workshops with interactive and educational games for kids about recycling, reusing and reducing, live art, networking platform for green enthusiasts and environmental non-profits to present and promote their mission and more.
Entry is FREE before 3 p.m. with the food donation.
This event is produced by
Rockers Movement
. For more information, visit
www.rockersmovement.com
Date: Saturday, November 23, 2013
Time: 1pm – 11pm
Location: Peacock Park | 2820 McFarlane Rd | Coconut Grove | Miami, FL
More Info:
www.rockersmovement.com
info@rockersmovement.com
facebook.com/rckzmvmt
twitter.com/rckzmvmt
youtube.com/rckzmvmt
Tel: 305.763.4509