FrontRowTickets.com Offers Fans the Opportunity to Witness History with Rolling Stones Tour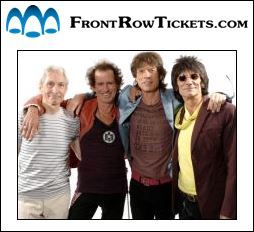 (PRLEAP.COM) The Rolling Stones is one of the world's biggest musical acts and has been since the band came together in the early 1960s. No band has been able to capture the charisma, stage presence and the raw talent
The Rolling Stones
have exemplified for over fifty years. FrontRowTickets.com, the leading online retailer of premium tickets to some of the world's biggest events and venues, is pleased to announce the availability of tickets for the 2013 and 2014 tour dates, including tickets to sold out shows and highly coveted seats.
For the first time since
The Stones
last global tour in 2005-2007, audience members will have the ability to experience one of the most acclaimed bands in all of musical history, live and in-person. Aside from U2's 360 tour, the Rolling Stones last tour holds a place in history as the biggest and highest grossing tour to ever take place.
"Fans of the Rolling Stones have been waiting for the announcement of a tour for years," said a spokesperson for FrontRowTickets.com. "Purchasing tickets gives fans the opportunity to experience history, along with legendary talent and an amazing live show."
The tour is limited to nine cities and will kick-off the North American tour at the famed Staples Center in Los Angeles. Other cities included in the "50 and Counting Tour" include Oakland, San Jose, Las Vegas, Anaheim, Toronto, Chicago, Boston and Philadelphia.
For many diehard Rolling Stones fans, the announcement of the official tour dates marked the end of a period of suspense and immense speculation, in part perpetuated by the band itself. Members of the Rolling Stones created a number of social media campaigns, serving as teasers to fans leading up to the day of the tour announcement.
The Rolling Stones are touted as putting on one of the most impressive live shows of any other musical act, and after over five decades in the industry, the band members continue to perform at an unparalleled level. According to interviews given by Stones front man
Mick Jagger
, the tour will feature not only the quintessential songs the band is known worldwide for but also some lesser known and newer songs.
To view the selection of tickets available from FrontRowTickets.com, visit
http://frontrowtickets.com/the-rolling-stones-tickets.aspx
.
About FrontRowTickets.com
FrontRowTickets.com was launched in 2002, and has served over one million customers throughout the world. The site is known for providing first class service along with the largest selection of premium tickets available. It is the goal of the site to provide customers with a premium event experience from start to finish. Tickets sold by the site are to a variety of the most popular and sought-after events, from concerts to sporting and theater events.
All trademarks remain property of their respective owners. FrontRowTickets.com does not claim any right or ownership to any of the names contained in this release. These names are strictly used for descriptive purposes and do not imply an endorsement or partnership. FrontRowTickets.com is in no way associated with any of the artists, sports organizations or venues listed.
Email FrontRowTickets.com