Premium Brazilian Decking To Sell Only Responsibly Harvested Wood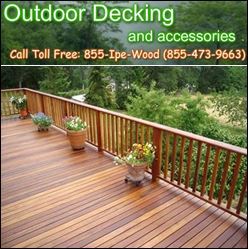 (PRLEAP.COM) Premium Brazilian Decking, a company that works with harvested Brazilian hardwood to create beautiful decking, is proud to announce that it will continue to use only responsibly harvested Brazilian hardwood in order to abide by the 2008 Lacey Act, which forbids the trading of any illegally sourced plants. As such, the provider of
fine decking uses sustainable amounts
of hardwood, so that the Brazilian rain forests can continue to replenish themselves over time.
A sense of environmental responsibility comes naturally to Premium Brazilian Decking, given the scenic beauty of so many of the decks created with their wood. The company specializes in providing fine Brazilian decking, which includes Ipe decking (more of a dark brown tone) and Garapa decking (which is a lighter color). These items can be shipped all over the United States and the Caribbean, so whether you need a deck in Montana or Florida, the company can provide it.
For those interested in getting pricing information on specific items,
Premium Brazilian Decking gives out free quotes
through the website. Potential customers can also receive quotes over the phone or via fax. What's more, the company's representatives are happy to help guide prospective buyers in how much material they might need for a specific project.
To learn more about the environmental efforts of Premium Brazilian Decking, or to browse through the fine hardwood products provided by the company, please visit
www.premiumbraziliandecking.com
.
About Premium Brazilian Decking – Based out of Tavares, Florida, Premium Brazilian Decking has earned a reputation as an environmentally responsible and high quality provider of Ipe decking, Garapa decking, and many other kinds of fine hardwood decking. With a burgeoning online store, the company hopes to continue to expand across the United States in an environmentally-conscious manner.
Email Premium Brazilian Decking, LLC