Leading Mobile Market Research Company Unveils Capabilities of New GPS Technology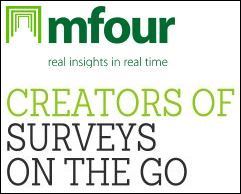 MFour Mobile Research, the leader in
mobile market research
, today unveiled the unprecedented capabilities of their new Global Positioning System (GPS) technology. Traditionally, businesses survey buyers-those who purchase their products-much more frequently than 'non-buyers'-those who escape without buying. These surveys include the popular methods of providing survey links at the bottom of receipts, post-purchase evaluation surveys, and response-boxes. 'Non-buyers,' however, have always been tremendously unrepresented in these traditional surveys. MFour's innovative mobile application-Surveys on the Go-allows market research to be conducted directly through people's mobile devices. MFour has integrated this application with the latest, most precise GPS technology in order to allow businesses to accurately study both spectrums of consumers and send surveys to both buyers and 'non-buyers' to gather their responses at the point-of-emotion.
"Our mobile market research gives unprecedented insights into the opinions of potential consumers," said a representative for MFour. "Our mobile marketing research application surveys buyers and non-buyers alike at the point of emotion-when the potential consumer makes his or her purchasing decision. Our GPS technology also pinpoints the exact business a mobile user is located in order to prompt potential consumers for survey information. Businesses can receive this feedback from both buyers and non-buyers instantaneously thereby placing our company on the cutting edge of market research in the mobile world."
MFour Mobile Research's Surveys on the Go mobile app is the highest-rated, most-downloaded, and most technologically sophisticated application in the mobile research market. In order to give businesses and consumers more options, MFour's technology allows for picture, video, and voice recording to be built directly inside surveys. As people begin taking their mobile devices with them everywhere they go, MFour believes its business will continue to thrive long into the future.
About MFour Mobile Research
With over 20 years of market research experience, MFour Mobile Research began with the mission to bring market research into the mobile age. As a result, MFour has established itself as the leader in mobile market research and its most widely used app Surveys on the Go has set the standard in market research in the mobile world. Businesses now have unprecedented insights into the minds of potential consumers. For more information please call 714.754.1234, visit their website
http://mfour.com/
, or follow them on Facebook, Twitter, Tumblr, Blogger, and LinkedIn.
Email MFour Mobile Research