Insightlink Introduces Custom Employee Survey Design Service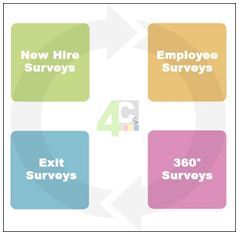 Palm Springs, CA – Insightlink, a company specializing in providing
employee surveys
and helping clients maximize their human resources, now offers completely custom survey design services. Clients who are looking for an employee survey not currently included in Insightlink's standardized categories, need a survey to reach another audience to achieve specific objectives, or want to start a customer satisfaction program will enjoy the benefits of custom survey design. In addition to designing surveys, Insightlink also specializes in collecting, tabulating and analyzing the results from those customized surveys.
The standardized employee surveys designed by Insightlink provide a comprehensive evaluation that helps clients maximize their human capital by providing not only an insightful, strategic analysis but also by highlighting concrete directions for goal setting to impact change and improve employee engagement. Insightlink works with their clients to understand and create solutions for their unique needs - and do so with unmatched expertise, efficiency and value.
For those clients who have designed their own surveys and need assistance with information gathering, Insightlink can quickly "web enable" a survey and issue invitations to participants within a few days. Then, clients can receive their survey results in a database format or Insightlink can analyze the findings of the survey and deliver a strategic report. Those clients who need a custom survey designed will benefit from the over 30 years of experience that the Insightlink team members have in designing surveys for all kinds of companies and organizations.
In addition to employee surveys, Insightlink has designed and implemented a variety of different customer satisfaction studies, including both point in time customer studies and transaction-based studies. Some of the surveys Insightlink has designed and implemented include an evaluation of online and telephone transactions among members of a national association, a year-over-year comparison of customer service among users of specific teaching supplies, an annual evaluation of the logistics department of a large national railway and many other important studies.
For more information about employee survey design services, customer satisfaction surveys, or custom survey design and implementation, visit
www.insightlink.com
.
About Insightlink Communications
Since 2001, Insightlink has been committed to providing the most effective employee survey tools to organizations of all sizes and types. We want our clients to get the best value for the investment they make surveying their employees. Since that time the company has grown in size every year and has established strong relationships with many different human resource managers in hundreds of diverse organizations large and small. Giving organizations the knowledge they need to create effective change is what we stand for.
Email Insightlink Communications