Max Alavi's bobbleheads are a big hit at Orange County IAFF Fundraiser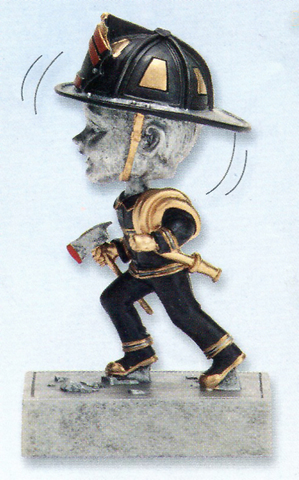 Max Alavi, Newport Beach Estate Planning Attorney, is a big hit with his fireman and police officer bobblehead dolls at Orange County Fallen Firefighters Family Relief Fund, Battle of The Badge Event
Anaheim, CA – August 19, 2013 – The Annual Battle of The Badge Grappling Competition organized by the IAFF local 3631 to benefit the families of fallen fire fighters was held at the Phoenix Club on Saturday Aug. 17, 2013. The event is a MMA grappling event held for competition, fun and to benefit the very worthy cause of supporting the fallen firefighter family relief fund.
Max Alavi, APC, Attorney at Law of Alavi & Broyles, LLP (
www.alavibroyles.com
) is a Newport Beach estate planning attorney who since 1992 has shared the goals of the OC Fallen Firefighters Family Relief Fund. He focuses on providing simple, cost-effective and innovative estate planning through the Complete Living Trust Package with generous discounts for public safety employees like fire fighters and police.
Max Alavi commented on the success of the event: "We were delighted that we were one of the main sponsors of the 2013 Battle of the Badge. This event is focused on fund raising and fun for families and we were able to achieve both those goals. We had a great turn out and the sponsors pulled their weight with the fundraising and my office added some fun to the event for the families by providing high quality Fireman and Police Officer bobblehead dolls to the families present. One of the funniest things that happened was that the event adopted our bobblehead dolls as the trophy for the winning teams and we all had a great time posing with them. Along with my office personnel, I had great time watching the matches and meeting the families, firefighters, IAFF leaders and Garden Grove City Leaders.
About Max Alavi, Attorney at Law:
Having the privilege of practicing law since 1992 and as a member of the Orange County and Long Beach Bar Associations' Estate Planning, Elder Law and Tax Sections I strive to maintain a vigilant eye on all the issues that may affect my clients' estates, probate and asset protection issues now and in the future. My practice philosophy is to combine the highest level of skill, integrity, and technology to bring about the best results in a timely and economical manner for my clients. My long experience in working with public service employees has given me an appreciation for what they do as well the special issues that their families often face, giving me an insight into how best to advise them in their estate planning.
Max Alavi is a recipient of the 2013 Avvo Clients Choice Award and Rated Excellent in Estate Plannning. For more information on this Excellent Attorney, please visit Max Alavi's profile at
http://www.alavibroyles.com/
Max Alavi, APC, Attorney at Law, located at 500 Newport Center Drive, Ste. 580, Newport Beach, CA 92660 call 949-706-1919, or visit
www.alavibroyles.com
.
Media Contact: Max Alavi, Alavi & Broyles, LLP, 949-706-1919,
info@alavibroyles.com
Email Max Alavi, Estate Planning Lawyer