Eclipse Awards Highlights Company's Corporate Social Responsibility and Sustainability Efforts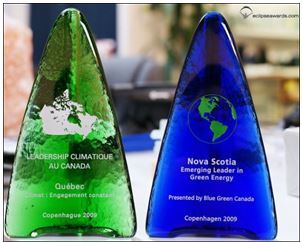 Vancouver, BC – Eclipse Awards is known for beautifully handcrafted
recognition awards
, responsive customer service and reliability, but the company is also a recognized leader in local social responsibility and global sustainability efforts. In their commitment to become carbon neutral, the company has implemented a variety of initiatives from employee training to energy efficient equipment. Commitment to environmental sustainability and social responsibility are at the core of Eclipse Awards' values.
"We believe that our role is to consistently deliver on the promises that we make to our clients, and in doing so, make decisions that respect the environment and our community, that use resources efficiently, that minimize waste and that strive for simplicity over complexity," said Toby Barazzuol, president of Eclipse Awards. "Recognition awards are the focus of our business, yet how we treat the environment, the way we contribute to our community, and the health and happiness of our team are all equally important considerations."
To reduce the company's carbon footprint, Eclipse Awards is targeting a 20 percent reduction in CO2 by 2013 from 2007 levels. In order to achieve this, the recognition awards company created and adhered to a five-year action plan that identifies some opportunities for the company to reduce its carbon footprint. Among the initial programs was an effort to renovate an unused derelict building into a "living, green building," by installing energy efficient toilets, skylights for natural lighting, open air ventilation and more. Eclipse Awards also installed a green roof with a garden to moderate the temperature, create space for staff to enjoy, and to support local biodiversity.
Today, Eclipse Awards continues to solve the day-to-day challenges that make up the journey towards sustainability. This recognition awards company views sustainability not as a goal, but as an ongoing process that commits every aspect of the business and each team member.
For more information on Eclipse Awards' sustainability efforts or recognition award capabilities, visit
www.eclipseawards.com
.
About Eclipse Awards:
Eclipse Awards is dedicated to bringing fresh designs, legendary service and high quality standards to the recognition market - all in a way that recognizes sustainability. Think of Eclipse Awards as an extension of your company, trying to make your project as simple and stress free as possible while also minimizing environmental impact. Eclipse understands that your awards are special and they never forget the fact that every award created will have a special and lasting meaning to its recipient.
Email Eclipse Awards International Inc.