Levy & Associates Encourages Clients to Get a Jump-Start on 2013 Taxes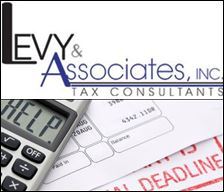 Detroit, MI – Levy & Associates, a full-service
tax help
, accounting and audit defense firm, encourages clients to start preparing their 2013 tax tab now for timely submission and quick returns. Completing accurate and timely tax returns is a significant project, but with the right tax help and an early start, companies as well as individuals will be ready to file early and enjoy the peace of mind knowing their 2013 taxes are being processed. Levy & Associates tax professionals have been helping businesses and individuals successfully manage their financial concerns for nearly 50 years.
"Those who are not in the industry are probably not thinking about their taxes right now, but we at Levy & Associates are already in full tax help mode," said Lawrence Levy, founder and CEO, Levy & Associates. "There are many benefits to starting preparing your taxes early. We have helped clients find potential problems, secure maximum refunds and meet important deadlines, all with just a little bit of planning ahead."
By getting an early start on their tax help this year, clients will be able to benefit from Levy & Associates' qualified team of financial management and tax experts providing many important financial services under one roof. The Levy & Associates consist of CPAs, accountants, tax consultants, tax attorneys and even former IRS officers, all who are there to provide clients with tax help and avoid financial challenges. By starting to gather tax information now, these tax experts will be able to detect and resolve any possible challenges long before the April 15 filing deadline.
In addition to personal and business tax help, Levy & Associates also specializes in providing complete and tailored accounting, payroll and tax solutions including, monthly bookkeeping, tax planning and preparation, bank financing, consulting, cash flow management and much more. Complimentary initial consultations are available for new clients. Other accountants and lawyers simply do not have the range of experience that Levy & Associates has when it comes to tax help.
For more information and to start planning 2013 taxes today, visit
http://www.levytaxhelp.com/
or call 1-877-346-4726.
About Levy & Associates:
Levy Tax was founded in the 1960's. Over the years, the conventional accounting aspect of the firm grew and also a need for a specialized service, what is called "tax trouble," became prevalent in the early 1990's. Lawrence Levy formed a firm, Levy & Associates, Inc., in the 1990's that represented taxpayers (both corporate and personal) with the IRS and State of Michigan regarding their delinquent tax liabilities and filings. Levy & Associates, Inc. expanded its services to the east coast of Florida in 2002. As the business continued to grow, Lawrence formed another entity, The Levy Group, Inc., which offered services in Los Angeles, Boston, Indianapolis, Chicago and Tampa.
Email Levy & Associates, Inc.