Air Rattle's Summer Sizzle Sale Offers 18% Off Most Products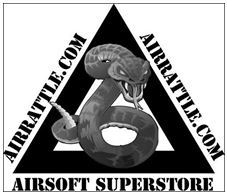 Online
Airsoft gun
and accessories distributor AirRattle has announced its newest round of sales, including the "Labor Day Sale," offering 18% off most items.
AirRattle's Summer Sizzle Sale is a promotional offer activated by using the promo code "BACON" at checkout that applies to all products excluding KWA, Umarex, Condor, Lancer, Dye, Valken, Echo1, and VFC, as well as any gift certificates or products already on sale. Other sales currently available include a free Airsoft Tactical Pistol with a laser and flashlight free with orders over $60, free T-Shirts for purchases over $99, and there are multiple pages of items that, if purchased, will allow free shipping for the entire order.
AirRattle is an international shipper of Airsoft guns, supplies and related products. They carry a wide variety of full metal and electric Airsoft guns, tactical gear, scopes and sights, batteries and chargers and more. They also have repair services and tech upgrades for Airsoft equipment, and can offer helpful advice about where to play.
AirRattle has multiple deals running at all times, many of which can be viewed in the "Deals and Steals" section of their website,
http://www.airrattle.com/
, where all other products and services that AirRattle offers can also be found. Additionally, AirRattle has live chat available online between 11am and 5pm EST and can be contacted via telephone at (740) 625-0001.
About AirRattle:
AirRattle is one of the premier online Airsoft and Airsoft-related products distributors. They guarantee 100% customer satisfaction on all products and are a registered Upfront Merchant, a verified Authorize.net merchant, and are protected by Trust Guard Security services.