Advantage CCS Releases a Slide Show on Tips and Resources for Student Loans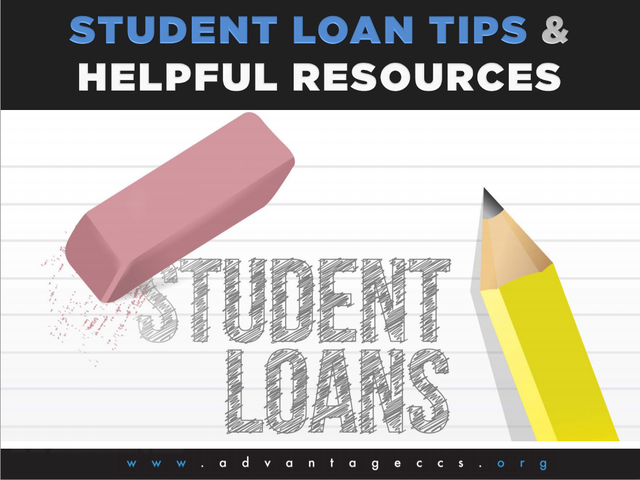 Advantage Credit Counseling Services, a national service provider of debt counseling, published a slide show specifically for people struggling to deal with student loan debt. Student debt is quickly becoming a national crisis. Of the 20 million Americans who attend college every year, nearly 60%
borrow money annually
to help cover costs. Between the approximately 37 million borrowers with outstanding student loans, the total US student loan debt is estimated to be between $902 billion and $1 trillion,
overtaking total US credit card debt
($853.6 billion as of June 2013). We also know that 14% of borrowers (5.4 million people) have at least one payment past due, and the total amount of student loan debt past due comes to $85 billion.
With these statistics in mind, it is important to see that student loan debt is growing rapidly, and it has serious consequences for a borrower's finances and the finances of their families. Here are some of the tips from the slide show for student loan borrowers to help manage their debt:
Get your loans organized: The first step to making orderly repayments is to carefully keep track of all your loans. Keep individual folders for each loan's records and documentation. Mark your calendar to track loan payments so you send them in on time.
Set up loan autopay: Most student loans will allow you to set up an automatic debit from your checking account. This method ensures that you pay your loans on time every month. Some lenders even offer a discount for borrowers who set up this payment method. (Lenders may also grant a discount for opting for paperless/electronic billing.)
Prioritize your high interest debt: If you have extra money that you want to put towards your loans to pay them off faster, concentrate on the loan with the highest interest rate, not the one with the largest principle. Student loans do not have prepayment penalties, so there is no charge for paying more than the scheduled amount. Ultimately, paying more money on high interest loans will save you money over the course of the loan.
For more tips and a list of useful student loan resources, see the full slide show:
http://www.advantageccs.org/blog/student-loan-tips/#.Uh-SADZQGuq
Advantage CCS
is a non-profit debt counseling firm that provides Debt Management Programs, bankruptcy counseling, financial education, and budgeting services. If you are struggling with debt, contact a certified financial advisor at Advantage CCS:
http://www.advantageccs.org/