Eastern Dentists Insurance Company (EDIC) Appoints New President and CEO, Hope Maxwell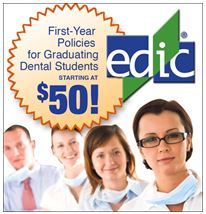 Westborough, MA - EDIC, a
leading provider of dental malpractice liability insurance
, announced today the appointment of Hope Maxwell as EDIC's new president and chief executive officer effective January 1, 2014. Ms. Maxwell will replace founding EDIC President & CEO, Charles P. Hapcook, DDS. Dr. Hapcook will continue to remain as Chairman of the Board.
Ms. Maxwell previously served as founder and managing member of IFC&E Services, LLC in New Jersey where she provided financial consulting and educational services for the property and casualty industry since 2010. She has worked in the property/casualty industry since 1989, with various positions in reinsurance, asset management and credit rating companies. Her area of expertise has been advising and ¬-covering medical professional liability companies with an emphasis on doctor-owned companies. Ms. Maxwell has been an advisor for EDIC for nearly fifteen years and has had the opportunity to work directly with the EDIC Board and senior management during this time. Ms. Maxwell earned a bachelors degree in Business Administration at University of Richmond.
"Hope is a nationally recognized authority on medical malpractice insurance and certainly will be capable of continuing EDIC's success while taking the company to the next level," said Hapcook. "In her new role as president and chief executive officer, she will be responsible for continuing our mission to provide the highest standards of dentistry and the finest coverage for our insureds while focusing on our profession and upholding EDIC's stability and potential expansion into the future."
"I am honored to follow Dr. Hapcook as EDIC's next CEO and President. He has established a strong and innovative insurance company to serve the dental profession," said Maxwell. "Together with the Board of Directors and dedicated employees, I am excited to continue EDIC's success story."
About EDIC - Based in Westborough, MA, Eastern Dentists Insurance Company (EDIC) was founded in 1992 by the Dental Society of Massachusetts to be owned and controlled by its insured members. The company has grown to include thousands of dental colleagues in Massachusetts, Rhode Island, Connecticut, New Hampshire, Vermont, Maine, New Jersey, New York, Pennsylvania, Virginia and North Carolina and focuses on working to control the rising costs of dental malpractice insurance. For more information, visit EDIC's website at
www.edic.com
.
Email Eastern Dentists Insurance Company