LED Outfitters Introduces New Dual Color LED Chameleon Sticks to Light Bar Line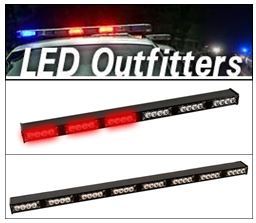 West Hempsted, NY – Emergency lighting retailer LED Outfitters is expanding its product line to include dual color LED Chameleon Sticks, designed to light an outdoor deck, the front of a grill, or on a front headliner. The Chameleon Sticks come in four different packages, each differing in terms of number of LED lights per head and length.
The new product, though it could serve as emergency vehicle lighting, is made to be versatile. The light bar is called a
Chameleon Stick because consumers can choose from several colors
they'd like the product to alternate between: the Chameleon Stick can go from red to amber, blue to amber, or red and blue to amber. Additionally, there are four different sizes available: the smallest bar has four LEDs per head and is 32 inches long, while the most extensive light bar has six LEDs per head and is 44.2 inches long. All variations use Generation III LED technology, are waterproof, and draw .35 amps per head at 12VDC. Additionally, the sticks come with a suction cup bracket that makes mounting the product easy.
In addition to selling the new dual color Chameleon Stick, LED Outfitters offer a range of other products with lighting in mind. With a basis in LED emergency lights, the company has expanded to offer plow lightbars, funeral lightbars, LED strobe lights, and many other variations of LED lighting. They've designed light bars for specific industries, as well, moving beyond just police to offer products for wreckers and EMS, as well as others. Finally, outside of just lights, LED Outfitters sells sirens that may also aid the previously mentioned industries in alerting the public to their presence. As stated by a company spokesperson, they are "constantly searching for ways to improve and expand their product line."
About LED Outfitters
In business since 2002, LED Outfitters sells lighting equipment to customers across the country, providing high-level customer service and a wide range of products. They pride themselves on offering customers cost-affordable LED lights that can fill a number of needs, from deck lighting to vehicle lighting and everything in between. For more detail please visit,
www.ledoutfitters.com
.