Performance Systems Janitorial Supply Posts Demo of Powerful Floor Scrubber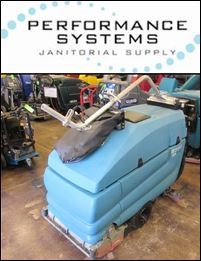 Vinton, IA - Performance Systems Janitorial Supply, selling a wide variety of machinery designed for warehouse and industrial cleaning, has posted a video demonstration of the Tennant 5700 Walk Behind Scrubber. The video, made by Tennant, shows how the floor cleaning machine works and how it might meet the needs of numerous customers.
For warehouses or other industrial spaces, high quality janitorial equipment is a necessity. The
Tennant 5700 is made to last under heavy use
, featuring a 28" cylindrical floor scrubber as well as a cleaning wand. Its XP touch panel control system makes it easy to use, as demonstrated in the video on PJ Janitorial's website. Also in the demo video, industry professionals demonstrate the use of the cleaning wand, which makes it possible to use the scrubber not only in wide-open spaces but also in smaller nooks and crannies. As a retailer for used floor scrubbers, PS Janitorial refurbishes these products and sells them to customers at significantly lower prices than retail. As stated by a company spokesperson, "Why buy new when you can save 50% or more on a refurbished piece of equipment?" Based on the demonstration of the Tennant 5700, it seems ready to stand up to use for many years.
While the Tennant floor scrubber is one strong product in PS Janitorial's line, the company also features numerous other types of cleaning equipment. From floor buffers to floor stripping machines, it's easy to find the right product to help maintain or revamp a warehouse. Though PS Janitorial prides itself on providing high quality refurbished machines, they also sell new products. Their warranty guarantees that the janitorial equipment satisfies the customer's needs, ensuring that each buyer gets what he or she requires.
About PS Janitorial
Selling both new and used equipment, PS Janitorial carries a range of brands and products ranging from Viper floor machines to Tornado carpet extractors. They promise to stand behind their refurbished machines, having satisfied customers across the United States for over 30 years. For additional detail please visit,
www.psjanitorial.com
.
Email Performance Systems Janitorial Supply