The Connection Supports States As Start Date For Health Exchanges Draws Near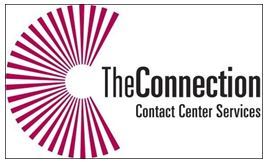 The Connection,
the popular call center services provider
, has been hard at work supporting the upcoming state health exchanges, multiple state Medicare and Medicaid agencies and plan managers, as well as various other business level changes impacted by the Affordable Care Act taking effect in the coming months.
October 1st marks the beginning of open enrollment for state health insurance exchanges, a key element of the Affordable Care Act. The health benefit exchanges are set to offer competing coverage from private health care providers via online marketplaces, with attached government subsidies designed to allow uninsured Americans unprecedented access to affordable health insurance coverage. Experts estimate up to 29 million Americans will be covered through the exchanges before the end of the decade.
The challenge for many states across the nation has been implementing effective outreach solutions, to convince the nation's uninsured to sign up for the exchanges and to better understand what other benefits they qualify for under the new law. In addition to the exchanges, the Affordable Care Act has effectively expanded Medicare and Medicaid to include millions more of the nation's most vulnerable populations.
Agencies and healthcare providers have been inundated with calls and inquiries, as thousands of Americans increasingly seek help and guidance to better grasp where they stand under the new regulations. As such, major inbound call center companies, like The Connection, have been highly sought after to handle the massive call volumes currently bombarding many agencies and businesses.
The Connection is a trusted player in the healthcare industry, providing years of expert healthcare call center support, serving numerous sectors within the industry. For years, their healthcare call centers have worked diligently handling many aspects of the healthcare industry, from member services to enrollment.
As the October 1st open enrollment start date quickly approaches, The Connection is dedicated to continuing their successful Affordable Care Act and health benefit exchange medical call center services to help enrollees and Medicare and Medicaid agencies and plan managers alike, transition smoothly into the new national healthcare model.
About The Connection:
The Connection is an award-winning outsourced contact center service provider, based in the United States. They specialize in providing sales, technical support and customer service through inbound and outbound teleservices, live web chat, email response, social media monitoring, and interactive voice response (IVR) services. They serve a wide variety of industries, including: healthcare, pharmaceutical, finance, insurance, government, tourism, Internet retail, publishing, and more. Their agents are capable of handling over 100 million calls each year, while maintaining staffing cost-efficiency. For more information, visit
http://www.the-connection.com/
or follow them on Facebook, Twitter, Google+, or LinkedIn.