Hooman Toyota Proud To Announce Major Toyota Corolla Milestone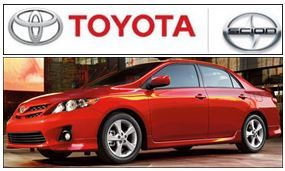 Long Beach, CA - Hooman Toyota, one of the premier Toyota dealerships in Long Beach CA, is pleased to announce that Toyota has attained a significant sales milestone for its Corolla nameplate, with 40 million Corollas sold. In fact, the
Corolla is officially the best-selling automotive nameplate
in history.
Since 1968, Americans have flocked to the Toyota Corolla. It represents the best qualities of a Toyota vehicle, and Hooman Toyota is excited to showcase what's next for the iconic Toyota vehicle at its Toyota dealership in Los Angeles. The 2014 Corolla takes the quality of a Corolla and updates it with even better safety features, great driving dynamics, expressive styling, and an elite interior. It's worth a closer look at the Corolla to see firsthand what makes it the best-selling car of all time.
In addition to the new 2014 Toyota Corolla, Hooman Toyota has a full line-up of Toyota cars available at its dealership, including the Yaris, Camry, Prius, and more. According to a spokesperson for the Long Beach Toyota dealership, "We love the Toyota brand and the quality it represents, which is why we're proud to offer our customers not only the very best Toyotas, but also a complimentary VIP membership that constitutes about $7000 in value." With a record-setting sales success in the Corolla, Toyota and Hooman Toyota continue to demonstrate their commitment to customer satisfaction.
About Hooman Toyota
For many years, the Hooman Toyota dealership has offered its unique brand of great service and value to the Long Beach, California community. The company is known for its exclusive VIP Membership Program, which provides a number of complimentary services to every Toyota buyer. With everything from pre-owned vehicles to brand-new ones, as well as some impressive specials, there's never been a better time to see which car in the Toyota lineup is the right choice for a next vehicle. For additional information please visit,
www.hoomantoyota.com
.