CAI Safety Makes Ladder Fall Protection A Priority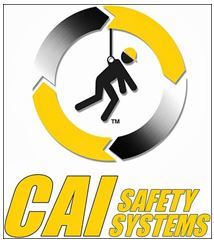 (PRLEAP.COM) Corona, CA - CAI Safety, a leader in custom engineered fall protection, will now offer a new
Ladder Fall Protection System
. This package is designed to help prevent potential safety incidents and increase efficiency for those working at heights. It includes a self-closing ladder gate, combination gate and guardrail, as well as a fall arrest system.
The Ladder Safety Gate is a self-closing swing gate for use on elevated platform openings. It features universal brackets and is available in a number of custom sizes. The Combination Gate and Guardrail offers a non-penetrating solution for permanent rooftop ladders. This allows users to move the unit from site to site and eliminates the need for permanent railings. It features a lightweight design that can be attached to round and flat ladder rails, as well as its own self-closing gate.
With this package, CAI offers its Vertical Cable Fall Arrest System for use on fixed ladders, poles, and tanks. Fall arrest defines any equipment that safely stops a person during a fall. This particular design allows a trolley to remain attached to the user while climbing. A steel cable is anchored by a shock absorbing top bracket and a tension indicating bottom bracket. Users have the ability to lock the system anywhere along the line to allow for safe freedom of movement.
In addition, CAI offers fall protection training. Their goal is to maximize the number of personnel in attendance, without incurring expensive travel costs. Prior to the course, trainers will contact clients to go over the specific fall hazards of their work environment. Participants who complete the training will receive a certificate that indicates they have met or exceeded OSHA (Occupational Safety and Hazards Administration) and ANSI (American National Standards Institute) requirements. In this way, CAI hopes to provide customers with everything they might need to create the safest possible work environment.
About CAI Safety Systems:
Specializing in custom engineered fall protection systems, CAI seeks to create a safer more efficient working environment. Since 1997 they have provided easy to assemble safety systems for a variety of uses such as cranes, railcars, ladders, and aircrafts. CAI provides onsite assessments, training, as well as fabrication and installation services. Committed to customer service, they strive to help customers from start to finish with all their safety needs. For more detail please visit
http://caisafety.com