Christopher Hart Bestselling Author of Manga Mania: Girl Power! Now Available at Amazon.com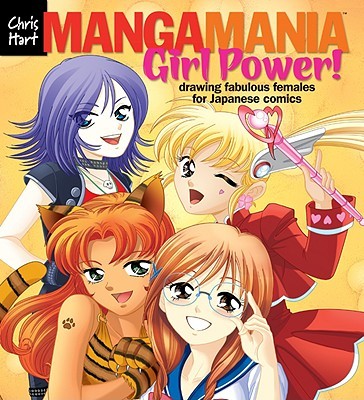 (
PRLEAP.COM
) Christopher Hart, bestselling author of dozens of How to Draw books now has several of his most popular titles in his blockbuster Manga Mania series on sale at Amazon.com, including Manga Mania: Girl Power!: Drawing Fabulous Females for Japanese Comics.
"When it comes to manga, girls really do rule," explains
Christopher Hart
, "whether they appear in graphic novels and anime, like Fruits Basket, Love Hina, Sailor Moon, Hana Kimi, Imadoki!, Real Bout High School, and Card Captor Sakura, or Shojo Beat magazine, the divas of manga are all the rage."
From fighters and princesses to magical characters and ordinary schoolgirls, manga features an array of female types, and
Christopher Hart
goes step by step through the techniques for creating them all, so that artists of any level can follow along. His huge cast of characters includes angels of light and darkness, a sushi chef, samurai, shopaholics, a pirate, a judge, athletes, and a veterinarian tending to a sick cute monster. And, since manga girls rarely sit still, aspiring illustrators will learn how to draw them in action, in a variety of situations. All the coolest, most fascinating types of manga girls are included in these pages.
Christopher Hart
begins with the basics, including drawing the head and body, facial expressions, eye types, figures in action, expressive poses, and female hands and feet. Then he moves onto a gigantic array of female characters from popular genres, including shojo-style girl, witches, princesses, cat girls, magical girls, fantasy chefs, pretty tomboys, fighter girls, teen vampires and more! Step-by-step demonstrations show aspiring artists exactly how to recreate these amazing characters.
"There are also tons of hints on developing story ideas for your characters, for those of you who may be interested in creating your own graphic novel," says Chris Hart,"so, there's plenty of material for you to dig into. This is your ultimate manga reference, one that you can enjoy for years to come. What more could you want?"
About Christopher Hart
Christopher Hart
is the leading author of How-To-Draw books on art instruction. He has had over 50 books published, which have sold over 3 million copies, domestically. He is published by Random House, the world's largest publisher. Chris Hart's books are also international hits, having been been translated into more than 20 languages. His books cover a wide array of popular, contemporary drawing subjects, from cartoons to manga, from animals to human anatomy, from basic drawing to vampires, and more. His work is noted for personality-packed characters and humorous writing. In addition, his books are profusely illustrated with clear step-by-step instructions.
Chris Hart's book, "Manga Mania: How to Draw Japanese Comics" (Random House) was the top selling art book in the United States continuously for over a year. In addition, he has had the top 1, 2 and 3 art books in the country, simultaneously ("Manga Mania," "Anime Mania," and "Drawing Cutting Edge Comics," published by Random House).
Chris Hart's books frequently appear on Nielsen Bookscan, the publishing industry's standard rating system for the top 50 most popular books in the country, which appears weekly, according to subject category. His popular series on drawing manga, "Manga for the Beginner," appeared on Bookscan's Top 50 list in the Art Category for two straight years. Every title in that 4-book series has appeared on Bookscan's top 50 list, with three of them having appeared numerous times, simultaneously.
Chris Hart's How-To-Draw videos have been produced by F&W Media and by Howcast. He has hosted his own show, on drawing comic book characters, on Activity TV, which is part of the Comcast Network. His work has appeared in numerous national magazines, including American Artist.