Hooman Nissan Is Excited to Announce the Prices for the 2014 Nissan Quest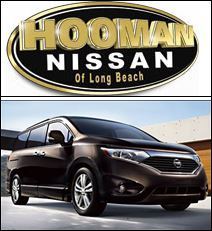 (PRLEAP.COM) Long Beach, CA – The Hooman Nissan dealership is pleased to announce their sale on select 2013 models and the prices for the new 2014 Nissan Quest. Hooman has a wide inventory of 2013 models which features steep discounts on select models to make way for the arrival of all new 2014 models, and the sale will continue through the end of September 2013.
Right now, customers can take advantage of the price cuts for select 2013 models like Altima Coupe, Sedan, and Armada as well as the 27OZ Roadster and can enjoy up to $2000 rebate with 0% APR and lease payments as low as $259.
Nissan dealerships across the country
, including Hooman Nissan are also getting geared up to receive and sell 2014 models, like the Nissan Quest. The U.S. prices for the new Quest remain unchanged, and the starting price is $25,990. All 2014 Quest models feature a standard VQ-series 3.5-liter DOHC V6 rated at 260 horsepower and 240 lb-ft of torque, and an advanced Xtronic CVT transmission. The estimated fuel economy is 19 mpg city and 25 mpg highway. Hooman M. Nissani, President of Hooman Automotive says that they "are excited for the new 2014 Nissan Quest. Our customers will love all the improvements. For those looking for a great discount, the 2013 sales are going on now."
The Hooman Nissan dealership also has a great selection of new and certified pre-owned Nissan vehicles for sale. Check out their specials on select cars, trucks, and SUVs either new or CPO. As well as savings on selected vehicles, Hooman Nissan is also having a parts sale on transmission fluid, air filters, wiper blades and refills, and Truestart batteries.
About Hooman Nissan
Hooman Nissan is located in Long Beach, California and they serve Los Angeles and Signal Hill. Since opening, Hooman Nissan has been commitment to their customers and they offer a wide selection of cars and trucks with competitive pricing for your automotive maintenance needs. For additional information please visit,
www.hoomannissan.com
.