Go Mini's To Attend Self Storage Association Fall Conference And Trade Show In Las Vegas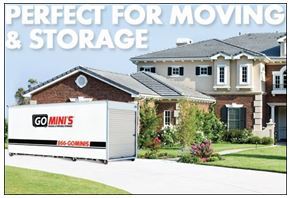 (PRLEAP.COM) Go Mini's, the expert in mobile storage containers, is set to exhibit at the 2013 Self Storage Association Fall Conference and Trade Show which will be hosted in Las Vegas on September 24-26. Go Mini's will offer
self storage operators new franchise opportunities
as a standalone business or an addition to an existing self storage or moving company. The mobile self storage industry is estimated to be in excess of $40 billion annually and growing rapidly, so now is an especially lucrative time for self storage operators to make additional investments.
The conference and trade show will be an excellent opportunity for new and seasoned self storage operators to learn about how Go Mini's is a major player in the mobile self storage industry through their signature turn-key start up franchise system. Go Mini's provides protected operating territories and uses a start small, grow large philosophy which allows franchise partners to keep their overhead and cost structure down when getting started.
Go Mini's also provides new franchisees with various tools and resources, including intense training at the corporate training center located in Arden, North Carolina as well as ongoing online software support and an extensive two weeks of onsite support if needed. This is an excellent franchise opportunity for markets of 300,000 or more as well as small markets when added to an existing self storage operation.
This unique self storage company has achieved a dominant international presence throughout North America and is the only portable storage franchise operator to offer 20-feet storage containers which have proved to be the most popular product in the industry. Go Mini's continuously provides the highest level of customer service satisfaction, and no long frustrating call-centers.
For more information about franchise opportunities or to schedule a meeting at the Self storage Association trade show and conference, visit
http://www.gominis.com/
or call 1-866-GoMinis.
About Go Mini's
When it comes to a stress free move, Go Mini's® is the company that offers the best possible portable moving and storage solutions, no matter what. Go Mini's® has a range of moving and storage containers that transform what you expected to be a real schlep into a total breeze. In fact, you can even enjoy the luxury of watching someone else do the heavy lifting for you. Go Mini's® will ensure that there are no problems during the loading and unloading processes, so you can pretty much just relax and let this experienced team take care of it all for you.