Mold & Moisture Solutions Introduces Crawl Space Encapsulation System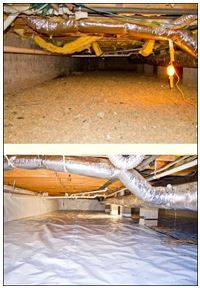 (
PRLEAP.COM
) Catonsville, MD – Mold & Moisture Solutions, a leading specialist in mold and mildew removal now also offers a
complete Crawl Space Encapsulation System
that including encapsulated crawl space cost and crawl space encapsulation products. Crawlspaces with an earthen floor can cause damage to the home and lead to potential health problems, but Mold & Moisture Solutions can prevent this contaminated air from getting inside the home.
According to the EPA and World Health Organization indoor air is two to five times more polluted than outdoor air. Much of the air we breathe in the home comes from the encapsulated crawl space. In the "stack effect" warm air rises from the crawlspace up through other levels of the home.
Unfortunately, the building codes for crawlspace vents do not allow sufficient ventilation. Homes that are subjected to a crawlspace with an earthen floor are prone to excessive damaging moisture that can cause toxic mold, harmful natural gasses such as radon, structural damage, and rodent and insects entering the home.
Mold & Moisture Solutions can completely seal the crawlspace area preventing this contaminated air from entering the home. The company's crawl space encapsulation system and mold encapsulation products are the best, time-tested approach available today. The vapor barrier system offers a continuous seamless design that is permanently installed and caulked to the foundation walls, giving homeowners the ultimate protection against mold, mildew, airborne toxins, and radon gas exposure.
For more information about the crawl space encapsulation system and to request a quote, visit
www.moldandmoisturesolutions.com
.
About Mold & Moisture Solutions:
While building his janitorial company, David Stough discovered a growing concern for his clients and their properties – on-going mold problems. Unfortunately, an immediate and cost-effective solution for treating mold problems was not available. Over the several years, Stough studied, researched, and attended many mold and mold related seminars. As a result of this dedication, he and the company earned multiple certifications from industry trade associations and national certifying entities.
Email Mold & Moisture Solutions