EB-1A Visa Difficulties Make O-1 Visa Lawyer Assistance Helpful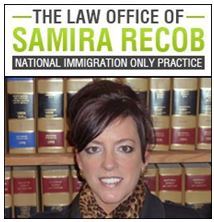 (
PRLEAP.COM
) Securing an O-1 visa may help highly skilled Chinese and Indian workers avoid long waits and difficulties involved with EB-1A visas, as these workers are increasingly subject to difficulty in getting EB-1As.
Denver immigration attorney Samira Recob
can help advise businesses and employees about what their options are regarding visas and help expedite the process of getting the appropriate visa.
Companies seeking to bring highly skilled Indian and Chinese tech professionals to the United States are running into difficulty based on the high volume of immigration traffic from the two countries and annual caps on the number of EB-1A visas issued. For some of these workers, working with an O-1 visa lawyer to obtain an O-1 visa may be a helpful stopgap measure, allowing them to reside in the U.S. temporarily while they continue to pursue a more permanent solution in the form of an EB-1A visa.
EB-1A visas are for foreign nationals of extraordinary ability in specified fields. These visas allow foreign nationals to live and work in the U.S. on a permanent basis. O-1 visas are also for foreign nationals of extraordinary ability, but are temporary visas and are initially only good for up to three years. The O-1 visa can be granted for longer than the 3 years upon USICS approval but will be granted in one year increments. Furthermore, O-1 visas are dual intent visas, which allow their holders to apply for permanent residency without compromising their O-1 status.
EB-1A visas have annual caps and also set allocations per country. Because so many firms are seeking to bring talented Chinese and Indian professionals to America, the process for getting an EB-1A visa has become backlogged, and applicants could end up waiting 5-8 years to obtain this visa. O-1 visas are not subject to caps and may be a more desirable option for employers seeking to bring highly skilled workers to the U.S. An O-1 visa lawyer can help expedite the process of obtaining such a visa.
By consulting with Colorado immigration lawyer Samira Recob, employers can determine what their options are with regard to visas for skilled employees and find the solution that best fits their individual needs and that of their employees.
About The Law Office of Samira Recob
Samira Recob is an experienced immigration attorney, having handled many work visa, family immigration and asylum cases. Recob's firm specializes in immigration law, and has the skills and expertise to assist in all immigration needs, including H-1B visas, citizenship and naturalization, investor visas and more. For a free consultation, visit
http://www.recoblaw.com/consultation/
or call 303-639-3090.
Email The Law Office of Samira Recob