Coastal Printworks Completes Project for Upcoming CicLAvia Event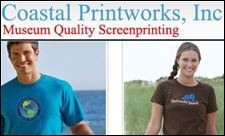 (PRLEAP.COM) Los Angeles, CA - Coastal Printworks, the
North Hollywood based screen printing
and embroidery company, has recently announced the completion of a major project for the upcoming CicLAvia – Heart of LA event in downtown Los Angeles. This marks the third straight event in which Coastal Printworks has been awarded printing contracts with the popular metropolitan organizers. The CicLAvia celebration is slated for October 6, 2013, 9:00 a.m. - 4:00 p.m., in the heart of Los Angeles.
CicLAvia is a special event open to the public, designed to create a pedestrian and biking-friendly zone, by temporarily removing cars and trucks from the road. With automobile congestion out of the way, Los Angelinos gain a unique opportunity to create networks between neighborhoods and businesses in an environment free of unhealthy exhaust fumes and stressful traffic. Organizers welcome families to attend on foot, bike, stroller and more to explore the downtown region and "rediscover the origins of the City of Angels."
Coastal Printworks' recent project with CicLAvia comes on the heels of what has proven to be a busy year for the local screen printing services experts. Earlier this year, they were also awarded a major printing contract with the Pasadena Museum of California Art to print all the merchandise for their critically acclaimed "Sam Francis: Five Decades of Abstract Expressionism from California Collections" exhibit.
This latest project is part of Coastal Printworks' ongoing effort to supply high quality printing for non-profit organizations and cultural institutions throughout the City of Los Angeles and around the world. They have garnered a strong reputation throughout the industry for their commitment to innovation and cost effective solutions in digital t-shirt printing, embroidery and more.
Coastal Printworks is proud of their work with CicLAvia, and they recommend interested parties visit their website today for more information on their "museum quality" products and services.
About Coastal Printworks:
Based out of North Hollywood, CA, Coastal Printworks is a family owned and operated business dedicated to providing high quality t-shirt screen printing and embroidery services to customers throughout the greater Los Angeles area and beyond. They are dedicated to quality, attention to detail, customer service and consistency. Their website is designed to help customers find the right printing process for their project or campaign to maximize quality and value. They offer personalized services to go above and beyond traditional customer service expectations. For more information, visit
http://www.coastalprintworks.com/
or call them at 888-503-0781.
Email Coastal Printworks, Inc.