Mama's Minerals Now Offers a Range of Classes and Workshops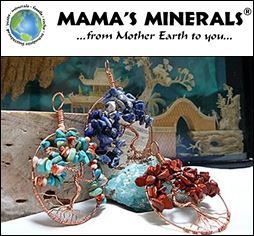 (PRLEAP.COM) Albuquerque, NM – Mama's Minerals, a
bead and mineral shop in Albuquerque
specializing in gemstones, beads, crystals and other treasures, also offers a complete range of jewelry-making and design classes ideal for new comers to this hobby, aspiring jewelry designers and anyone who just wants to relax and learn a new skill. For those with various interests, Mama's Minerals also offers stone carving, flint knapping and metaphysical crystal classes.
These great classes range from complimentary necklaces and earing-making classes ideal for beginners who will learn what materials to use, and how to properly finish a professional-style necklace, to the recycled art family workshop where families can learn how to take any material they already have around the house like old earrings, photos, miscellaneous found objects, beads and pieces of jewelry to create their own memorable piece of art to take home.
One example of these exciting new sessions is the Freeform Wire Wrapped Stone Pendants class; this 2-hour class costs only $35 with a $5 materials fee. It is a great opportunity to create beautiful, handmade treasures for a family member or a close friend. These unique pendants are excellent gift ideas for loved ones of all ages.
Another new popular class currently offered by Mama's Minerals is the Bonsai Tree of Life wire wrapped pendant workshop. Using copper wire and a variety of irregular chip beads, students will create their own one-of-a-kind pendant. Students are provided with an illustrated tutorial featuring step-by-step instructions they can take home to create more pendants for friends and family.
For those who are interested in learning more about minerals and the excavation process, Mama's Minerals also offers the Discovering Minerals class. This hands-on session allows kids the opportunity to learn about and interact with gypsum and aragonite crystals and the nature of how they're formed. The class is ideal for children 5 and up, and the cost is $20 for a 1-hour session.
To learn more about the variety of jewelry making and other classes offered by Mama's Minerals and for a schedule of events, visit
www.mamasminerals.com
.
About Mama's Minerals:
Following her passion, Laura Randolph, owner and president of Mama's Minerals, started selling crystal gemstones and geodes at arts and crafts fairs around the Southwest in 1985.
Mama's Minerals prides itself on its knowledgeable customer service, honed over more than two decades in the rocks and minerals business. You'll find a universe of interesting and beautiful mineral treasures and other products - authentic fossils, natural minerals, metal detectors and prospecting supplies, metaphysical supplies… and beads, beads and more beads!