GreyHeller to Exhibit at 16th Annual HR Technology® Conference & Exposition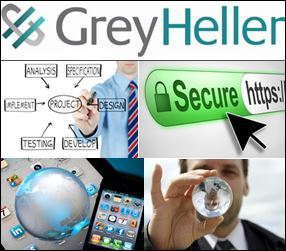 (
PRLEAP.COM
) GreyHeller, a leading provider of software solutions tailored to the Oracle® PeopleSoft suite, is proud to announce that it will be among the exhibitors participating in the 16th Annual HR Technology® Conference & Exposition. The conference will be held from October 7-9, 2013, at Mandalay Bay Conference Center, Las Vegas. This event, produced by Human Resource Executive® magazine, routinely draws thousands of HR professionals from across the globe, and this year's conference is expected to be the largest to date.
GreyHeller's presence at the conference underscores the company's continuing efforts to protectOracle® PeopleSoft HCM customers from cyber crime with the introduction of Two-Factor Authentication (2FA). 2FA enhances data security by requiring at least two of the three standard methods of verifying a user's identity: knowledge (e.g., PIN number), possession (e.g., physical payment card), and/or inherent characteristic (e.g., fingerprint). GreyHeller's Chief Technology Officer, Chris Heller, will demonstrate how Oracle® PeopleSoft customers can mobilize HCM self-service transactions via PeopleMobile® while further securing their sensitive data from cyber criminals with 2FA.
GreyHeller's software solutions are targeted at Enterprise Mobility, Application Security and IT/Developer Productivity. Its products do not require additions to existing hardware or software infrastructure, permitting clients to begin using their PeopleSoft technology quickly and easily. PeopleMobile® mobilizes every PeopleSoft HCM transaction and customization for any smartphone and tablet. ERP Firewall with 2FA is a location-based security rules engine that further protects Oracle® PeopleSoft HCM customers from security breach.
For more information, please visit GreyHeller online at
http://www.greyheller.com
or call 925-217-1298. In addition, prospective clients may wish to visit the official company
blog
, which contains news articles and other information about PeopleSoft products.
About GreyHeller
An Oracle Gold partner, GreyHeller is dedicated to helping its customers exploit the benefits of Oracle® PeopleSoft technology. Its products and services are used by over two million clients globally. Established by Larry Grey and Chris Heller, the company is headquartered in San Ramon, California.