Star Helicopters Once Again Sponsors the Annual Wings Wheel Rotors & Expo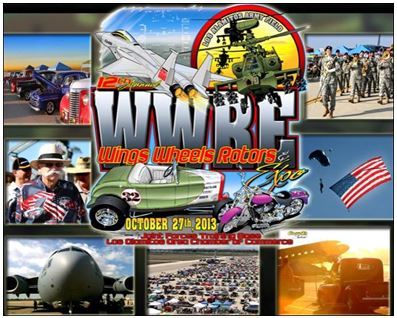 (PRLEAP.COM) Los Angeles, CA – Star Helicopters, a popular Southern California helicopter tour company, is once again the proud official tour
operator of the Wings Wheel Rotor & Expo show
. This year's event will take place on Sunday, October 27 at the Los Alamitos Army Airfield, joint Forces Training Base. A portion of the proceeds from the tours sold during the show will go to benefit Wings, Wheels & Rotor Expo. Show-goers can now pre-purchase tickets for a tour and select in which helicopter they would like to ride.
"We are very proud to once again serve as the official tour operator and sponsor of the 2013 Wings Wheel Rotor & Expo show," said Keith Harter, Director of Operations and Managing Partner, Star Helicopter Tour. "We are an active member of the Southern California flight community and this annual event is a great way to connect with other enthusiasts and introduce a new generation to the excitement of flight."
This year, Star Helicopter will take guests on a six to eight-minute tour in a Bell Jet Ranger helicopter of a Robinson R44 helicopter. Clients who pre-purchase their tickets for helicopter tours during the event will avoid the long lines and will be able to pick their seat and helicopter. Pre-sale tickets are limited to 40 per helicopter and cost $50 per seat for Bell Jet Ranger and $40 per seat for the Robinson R44. Tour tickets will also be available during the event at an additional $10 per tickets and will be seated by the ground support crew.
To pre-purchase tour tickets during the Wings Wheel Rotor & Expo, visit
http://www.star-helicopters.com/
.
About Star Helicopters
As Star Helicopters celebrates the beginning of the third year in business in February, 2012 it has grown from one helicopter and two pilots in 2009, to 8 helicopters and 8 pilots in 2012. Over these first two years the company has become the largest helicopters company in the Metro Los Angeles area, yet it still operates business with that small company hospitality and customer service.